Berry Calm Cheesecake
Recipe by Lauren Perry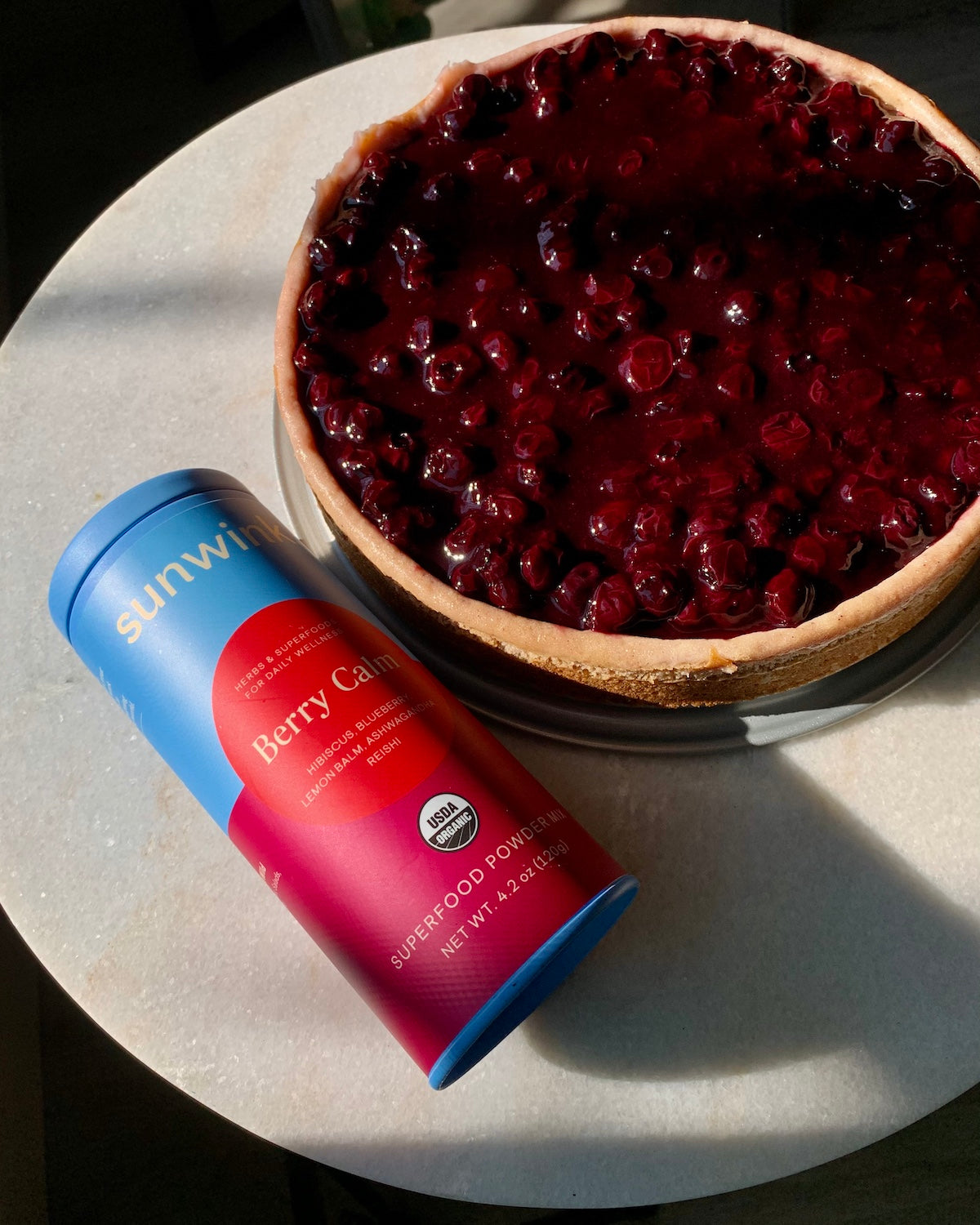 Recipe by Arianna Kotlier
Ingredients
Cheesecake:
2 8oz tubs plant-based cream cheese
2/3 cup organic cane sugar
1/2 cup plain unsweetened plant-based yogurt
1 heaping tbsp Berry Calm Superfood Powder
2 tbsp lemon juice
1 tbsp vanilla extract
2 tbsp organic cornstarch + 2 tbsp water (mix to make the cornstarch slurry)

Pinch of salt
Crust:
1 sleeve graham crackers
1/4 cup oats
1/4 tsp kosher salt

1/3 cup + 2 tbsp melted plant-based butter
Blueberry Compote:
2 cups blueberries
Juice of 1 lemon
1/2 cup water
1/2 cup cane sugar
1 tsp vanilla extract 

1 tsp organic corn starch + 2 tsp water (mix to make the cornstarch slurry)
Instructions
step one
First, prepare a baking pan filled halfway with water and place it on your oven's bottom rack. You'll need this later when you bake your cheesecake. 
step two
Take out all your ingredients for your cheesecake filling and allow them to come to room temperature.
step three
Add washed blueberries, lemon, water, cane sugar, vanilla, and cornstarch slurry to a small saucepan and bring to a boil on medium heat. Reduce the heat to low and simmer for another 10-15 minutes until it coats the back of a spoon.
step four
Now let's get started on the crust. To a food processor, add the graham crackers, oats, butter, and salt. Pulse until the mixture starts to come together and looks like wet sand.
step five
In your 8" or 9" springform pan, press the graham cracker crust down until there are no loose spots. Make sure to take it up about half an inch on the sides as well.
step six

Place the crust in the refrigerator while you prepare the filling. This is also when you'll want to preheat your oven to 350 degrees F.
step seven
If your cream cheese is still pretty firm, warm it in the microwave for about 30 seconds before incorporating any of the other ingredients.
step eight
In a large bowl, add in the softened cream cheese and sugar. Beat with a mixer on low speed until no lumps remain.
step nine
Then, add in the yogurt, Berry Calm powder, lemon juice, vanilla, cornstarch slurry, and salt.
step ten
Mix again on medium speed until smooth and creamy. Scrape down the sides of the bowl if needed.
step eleven
Remove your crust from the refrigerator and pour the filling into it.
step twelve
Place the cheesecake in the oven on the top rack and bake for 40-45 minutes or until mostly set but still a little bit jiggly.
step thirteen
Let it cool completely on the counter and then refrigerate overnight.
step fourteen
When it has set completely, release the cheesecake from the springform and spoon the blueberry compote on top. Serve and enjoy!