Chill Out Chili
Recipe by Sunwink Master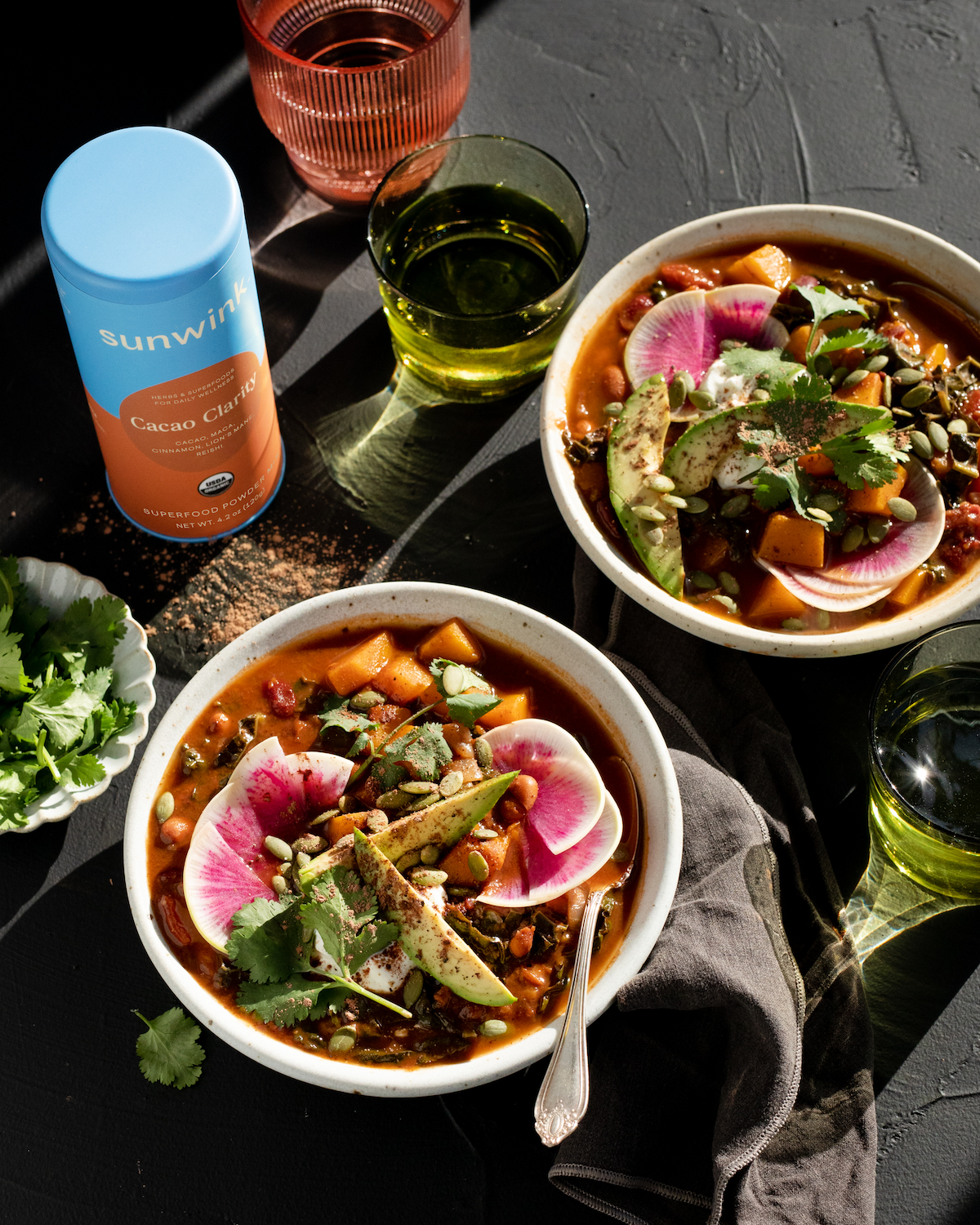 Recipe by Amy Holt
Ingredients
3 tbsp Sunwink Cacao Clarity Powder
2 tbsp olive oil
1 yellow onion (minced)
1 tbsp garlic (minced)
4 cups fresh butternut squash (1/2 inch cubes)
1 tbsp tomato paste
1 tbsp chili powder
1 tsp cumin
1 tsp cayenne pepper
1 tsp salt
1 tsp cinnamon
1/2 tsp smoked paprika
2 tbsp canned green chilis
1 15 oz can diced fire roasted tomatoes
1 15 oz can pinto beans- drained and rinsed
1 15 oz can red kidney beans- drained and rinsed
1 tbsp maple syrup
1 tbsp apple cider vinegar
3 cups vegetable broth
3 cups Dino kale- chopped
Vegan sour cream*
Vegan cheddar cheese*
Toasted pumpkin seeds*
Avocado*
Radishes*
Tortilla chips*
Red onion*
Chili peppers*
Cilantro*
*optional
Instructions
step one
Heat large pot over medium heat. Add the olive oil and minced onion, sauté for about 5 minutes until translucent, add the minced garlic and cook for another 2 minutes.

step two
Add the chopped butternut squash, tomato paste, chili powder, Sunwink Cacao Clarity Powder, cumin, cayenne pepper, salt, cinnamon and smoked paprika. Cook for about 5 minutes, stir well to make sure everything is coated and mixed. Add the green chilis, diced tomatoes, drained pinto and red kidney beans, maple syrup, apple cider vinegar and vegetable broth. Stir well to combine, bring to a boil, then reduce heat to low, cover with lid and simmer for 20 minutes.

step three
Add in the chopped Dino kale and cook for an additional 5 minutes.

step four
When ready to serve add whatever toppings you like and enjoy!