Lemonade Pie Recipe: An Icebox Dream
Recipe by Lauren Perry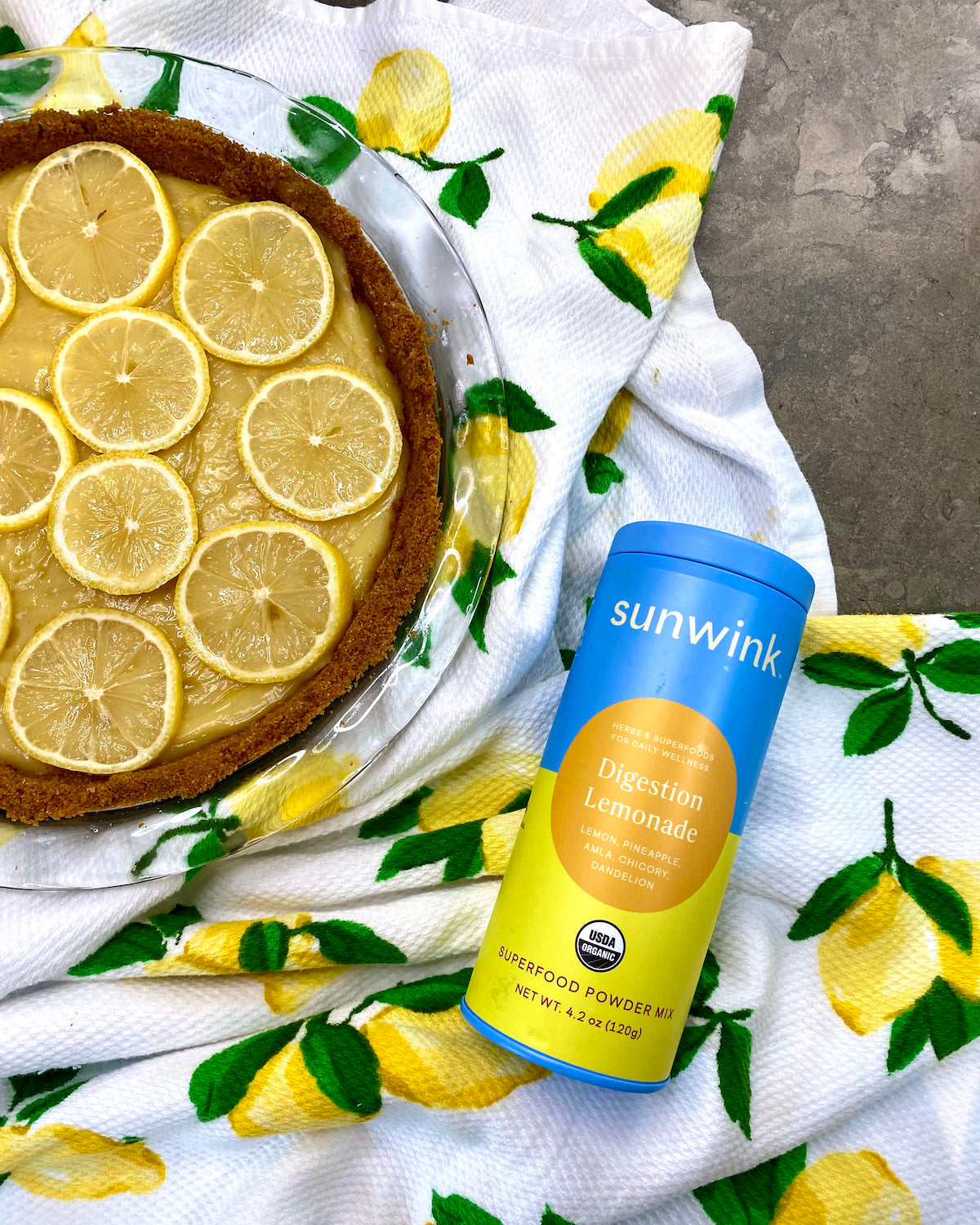 Let's dive into one of our favorite recipes. From the delicious pie crust to limited prep time and the option for whipped topping, this lemon pie recipe is the perfect summertime treat.
It's no secret that finding quality, delicious dessert recipes can be challenging. There are so many different recipes out there, and it can be hard to know which ones are worth trying.
At Sunwink, we love providing our community with recipes that they can fall in love with. We especially love no-bake recipes that have different garnish options, such as cool whip. That's one of the reasons why we love this frozen lemonade pie recipe (but more on that later!)
Here's Why We Love This Recipe…
If you're looking for a quality source of vitamin A or vitamin C, you might not have thought to find it in a dessert. Adding extra things to a dessert, such as blueberries, is a great way to ensure that you're taking care of your body while still enjoying what's on your plate.
Many people don't realize that desserts can be an opportunity to get some micronutrients and nourish your body. While not all desserts are healthy, there are some desserts that are better for you than others.
If you're looking for the perfect summer dessert and have some room for carbohydrates in your diet, this frozen lemonade pie might be the perfect no-bake option.
There are so many reasons why we love this recipe. Here are a few:
1. Garnish potential! If you're someone that loves garnishes as much as we do, then this could be the right recipe for you. Consider getting creative with your garnish and adding whipped cream, lemon zest, cream cheese, or another cold treat.
2. It's perfect for summertime. Frozen lemonade pie is a great way to cool down if you're feeling the heat this summer. 
3. Share with friends! This dessert is a great option to take to your next bbq or potluck. Summertime isn't complete without friends and family, so blow them away with this delicious dish. Lemon desserts are a great way to connect with others and show off your baking abilities.
4. Graham cracker crust. Need we say more?! Everyone loves a perfectly baked graham cracker crust, especially since it's the perfect way to balance out something sweet. If you've been looking for an excuse to eat graham cracker crust, this recipe is it!
5. The perfect way to enjoy lemonade concentrate! If you're someone that enjoys both sweet and sour, then this recipe is right for you. Featuring lemonade concentrate, you can enjoy the mix of flavors that this cream pie provides.
Recipe by Lauren Perry
Ingredients
Crust:
4 cups ginger snap cookies

3 tbsp sugar

1 tsp salt

½ cup unsalted vegan butter, melted and cooled
Pie Filling:
5 eggs, 7 egg yolks

1½ cups sugar

⅓ cup cornstarch

1½ cups lemon juice

½ tsp kosher salt

½ cup unsalted vegan butter, melted and cooled
Instructions
Pie Crust
step one
Preheat oven to 350 degrees F.
step two
Pulse gingersnap cookies in a food processor until they're fine crumbs. Add sugar and salt and pulse a few times. Add melted butter and pulse until well combined.
step three
Evenly spread mixture into a nine inch pie dish and press with back of spoon or hands until compact.
step four
Bake crust for about 10 minutes or until set. Let cool completely and set aside.
Pie Filling
step one

Combine eggs, egg yolks, sugar, superfood powder, cornstarch, lemon juice, and salt in a saucepan over medium-high heat until mixture comes to a boil. Reduce to medium hit and stir for 6-8 minutes while mixture thickens.
step two

Pour mixture into a large bowl and add butter, stirring until melted. Let cool to room temperature. Spread mixture evenly over crust, press plastic wrap directly on surface and refrigerate for 1+ hours.
step three

Remove pie from refrigerator and top with lemon slices.
step four

Dish and enjoy!