Herbal Hour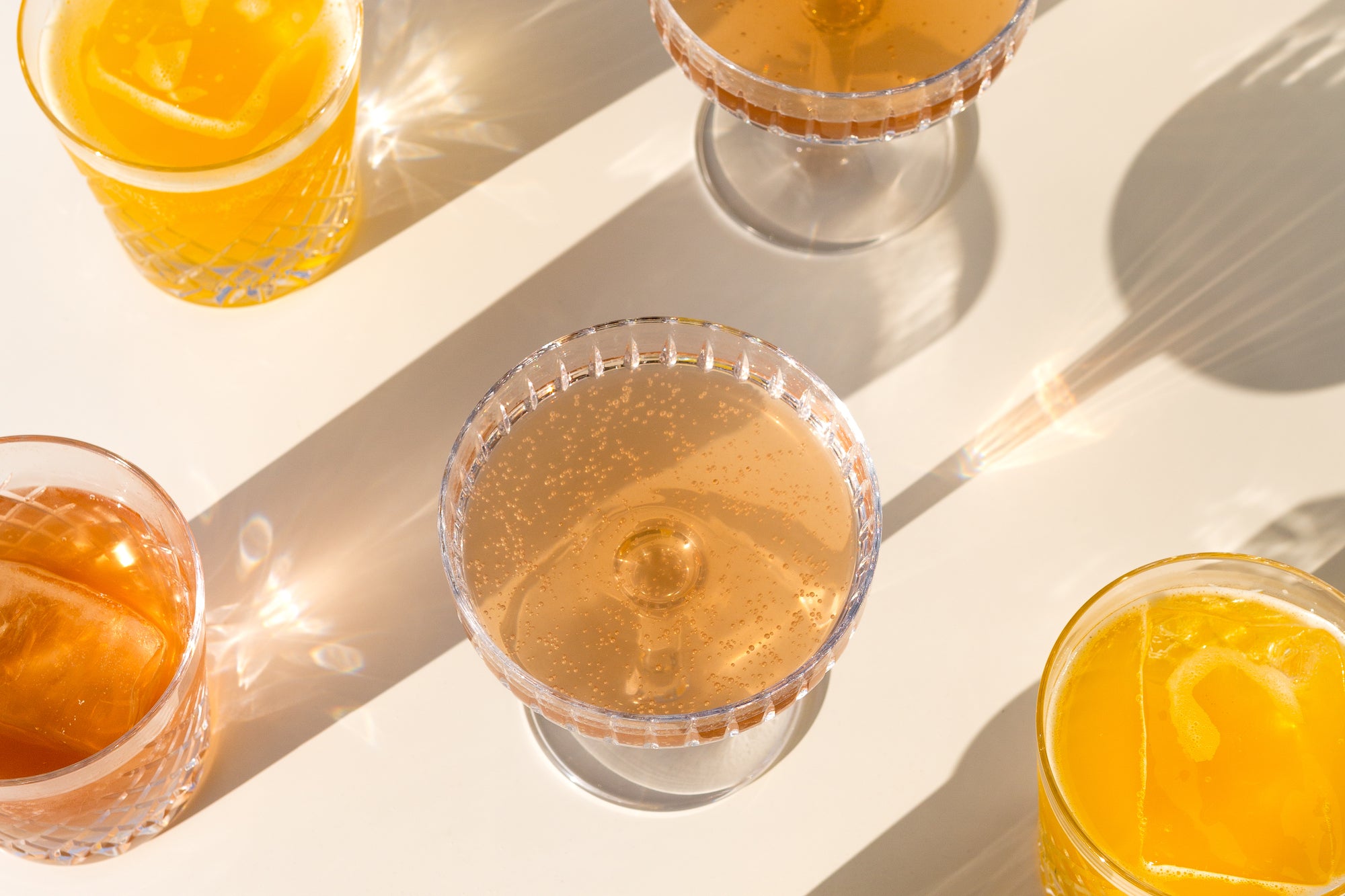 Introducing Herbal Hour!
We think you deserve more from what you drink which is why we're taking a new spin on happy hour and elevating it with the power of plants. Every month, we'll be partnering with a different like-minded, plant-powered brand to bring you the best herbal cocktail and mocktail recipes Earth has to offer! Plants benefit us in so many ways, so why not bring them to happy hour?!
Sunwink x AMASS
Say hello to our first Herbal Hour partner - AMASS! AMASS, like Sunwink, believes in the power of plants. From botanical spirits to body care products, they make clean botanics for modern life.
We hope you tuned into our Herbal Hour Instagram Live, but if not, we've recapped all the fun for you! You can also rewatch the IG Live here!
Mixologist Jason Eisner took over the AMASS Instagram and walked us through the crafting of his very own Sunwink x AMASS herbal cocktail - the Rose + Lemon Poppy Spritz. We've provided the recipe along with Jason's Pickle Buck cocktail recipe featuring Sunwink Detox Ginger and AMASS Gin below. Try them out yourself and show us your creations on Instagram!
ROSE + LEMON POPPY SPRITZ
Ingredients for Cocktail
2 oz AMASS Gin

2 oz Sunwink Lemon-Rose Uplift (possibly more to top) 

.75 oz fresh pressed lemon juice

.75 oz zesty Poppy syrup 

Long lemon twist for garnish
Directions to Build
Combine gin, lemon juice and zesty poppy syrup in a cocktail shaker. Fill shaker with ice, cover and shake vigorously until outside of shaker is frosty. 
Fine strain into a flute, top with Sunwink Lemon-Rose Uplift and garnish with lemon twist.
Ingredients for Zesty Poppy Syrup
1 cup sugar

1 cup water

1 tablespoon ground poppy seeds

zest of one half lemon
Directions for Zesty Poppy Syrup
Combine sugar, water, lemon zest, and poppy seeds in a saucepan over medium-high heat and stir until sugar is dissolved. When the mixture reaches a roiling boil, remove from the heat and allow to cool.
Strain the lemon zest and poppy seeds from the cooled syrup and store in an airtight container in the refrigerator until use. 
PICKLE BUCK
Ingredients for Cocktail
2 oz AMASS gin

1 oz pickle syrup

.5 oz lime juice

1 pinch Kosher salt

Top with Sunwink Detox Ginger tonic 

Garnish with cornichon
Directions to Build
Add gin, pickle syrup, lime juice, and Kosher salt to a cocktail shaker. Add ice and shake until chilled.
Fine strain into a double rocks glass and add fresh ice, top  with Sunwink Detox Ginger tonic and garnish with cornichon.
Ingredients for Pickle Syrup
Add 2 oz pickle juice and 2 tablespoons of sugar to a microwaveable safe measuring cup. Microwave until sugar granules have disappeared.
Our goal for Herbal Hour is to provide our community with another way to incorporate plants into everyday life. We hope to see you at our Herbal Hour next month, and in the meantime, check out AMASS - new hand sanitizer coming soon!
📷 Chris Pond (@tophcam)