Introducing Citrus Lime Fiber Superfood Powder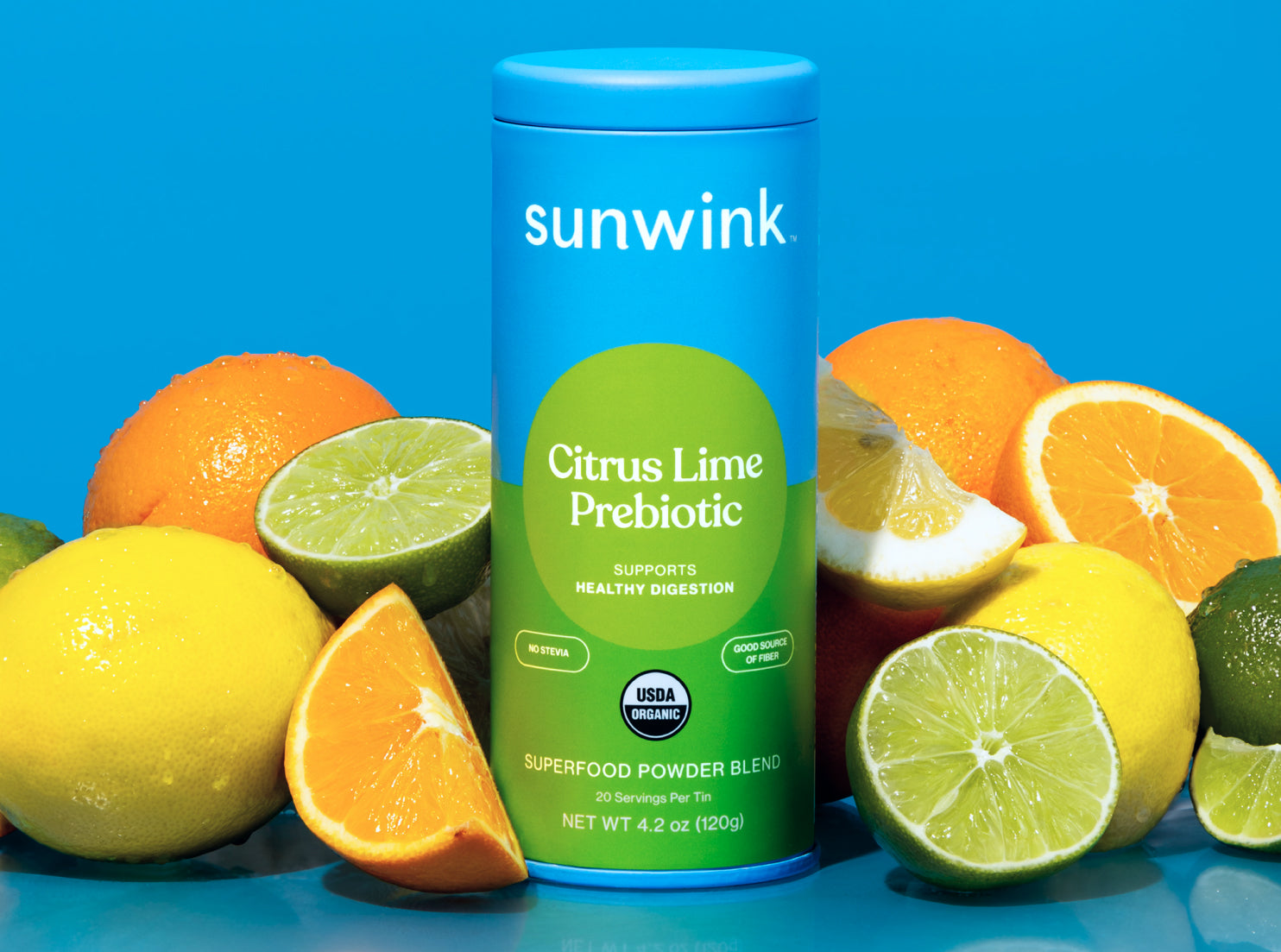 Introducing our new Superfood Powder, Citrus Lime Prebiotic. Your new favorite fiber powder to support a healthy gut. We spoke with clinical herbalist and holistic nutritionist Anna Marie Beauchemin to learn more about the ingredients that make this blend so special!
Designed to help bring the magic of herbs to the digestive system, what I love about this blend is the use of fiber-rich botanicals that also double as medicinal herbs. For an herbalist's perspective on each of the ingredients in this new blend, see below:
Lime
The flavoring superstart of this blend, the tangy, tart flavor of lime is what ties all of the ingredients in this mix together, creating a blend that is both delicious and medicinal. Citrus flavors are a great way to tie blends together, and are often used as unifying ingredients in herbal formulas.
Burdock
A powerhouse for the digestive system, burdock has long been used for supporting digestive health, including that of the liver. A medicinal root that can also be eaten (my favorite is pickled burdock), this nutrient rich botanical is a great source of inulin, which is a fiber that is known to act as a prebiotic and serve as a source of fuel for the beneficial microbes that live in the digestive system. Burdock has a rich history of use in many traditional herbal healing systems as well.
Chicory Root
A bitter medicinal that can be used to help stimulate the digestive juices (much like all bitter herbs), this savory root is often used in coffee alternative blends due to it's robust flavor and bitter notes. Chicory provides another great source of the prebiotic fiber inulin in this blend, complimenting the burdock and diversifying the phytochemicals used to create this prebiotic rich formula. 
Tangerine Peel
A flavoring agent and a carminative (an herb used to help dispel excess gas in the digestive process), tangerine gives this fiber-rich blend a nice balance and flavor. Carminative herbs are often used in digestive blends to help support the natural digestive process, and act as a nice balance in this blend as well. Citrus (such as tangerine and lime) are also a great source of vitamin C, a vitamin that supports so many areas of the body, including our digestive system.
About Anna Marie Beauchemin
Anna is a trained clinical herbalist and holistic nutritionist, and biologist with a strong background in the culinary art who aims to bridge the worlds of herbalism, cooking, and garden-centric ecology through her work. She holds a Bachelor of Science in Conservation and Resource Studies from the University of California Berkeley and is a registered Clinical Herbalist through the AHG who has studied clinic-based herbalism with a variety of respected teachers and institutions.
Note: The information in this article is for educational purposes only and is not intended to diagnose, treat, cure, or prevent any disease. Please make sure to consult with a licensed physician before adding herbal or dietary supplements into your life, especially if you are pregnant, nursing, or on medication.