Late Summer Harvest Herbal Recipe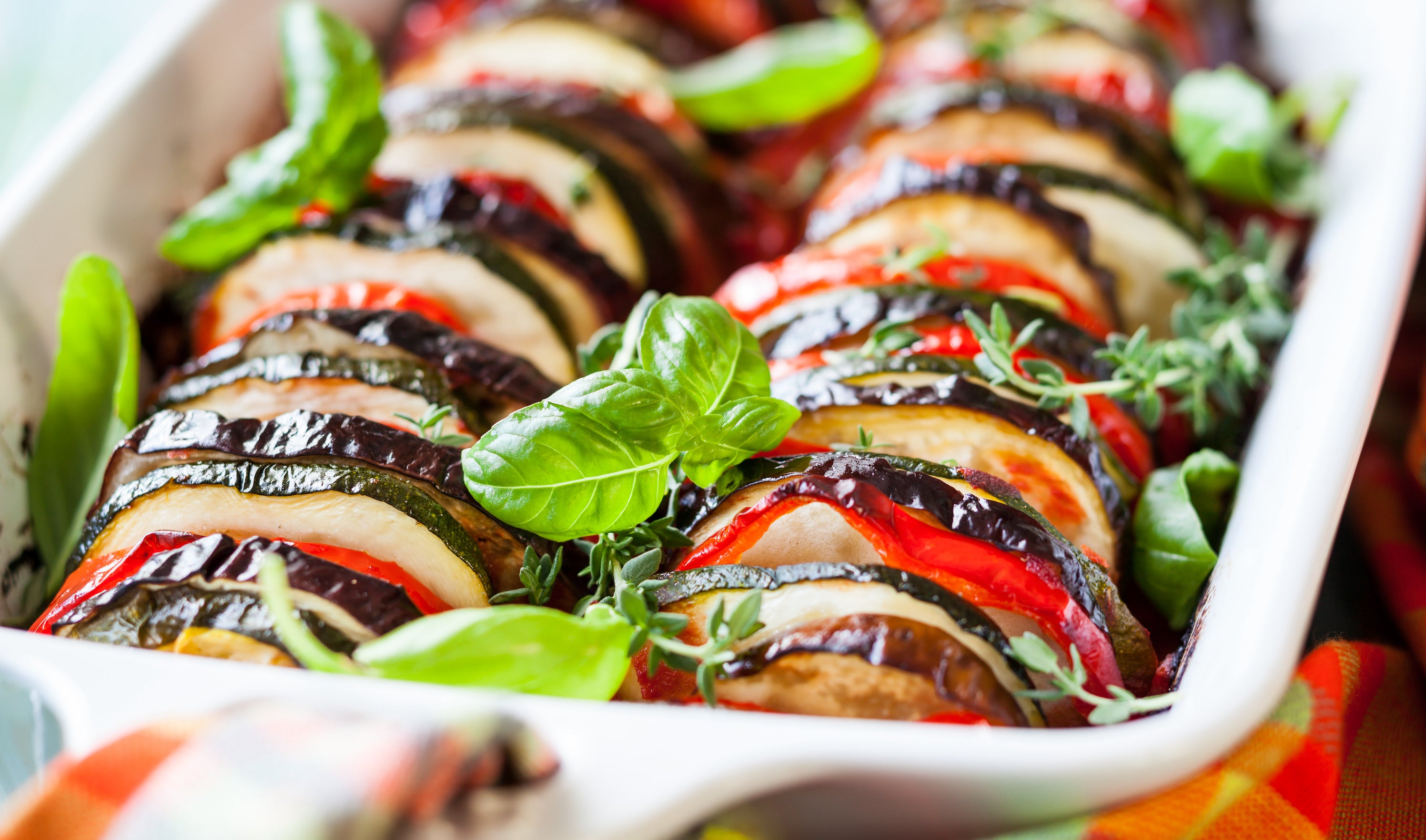 By Anna Marie Beauchemin / Clinical Herbalist + Holistic Nutritionist
As we head into the final days of summer, we move out of the blaring heat of the sun and into the cooler days of fall. During these times of seasonal transition not only does the weather shift, but the abundance of veggies available at the market also begins to change. My favorite way to celebrate the end of summer? By getting as many late-season veggies onto my table as I can. Many garden herbals are also nearing the end of their growing season, so I always try to incorporate as many as I can into each dish. Late summer produce such as tomatoes, bell peppers, eggplants, pears, apples, and grapes can be found at the markets right now, perfect for those end of summer meals – like my herbal ratatouille featured below!
Late August/early September is my favorite time to make this classic dish - which if you've never had – is basically a love letter to end-of-summer herbs and veggies. This recipe features oregano and garlic, two of my favorite botanicals for seasonal transitions and antimicrobial support. Adding basil to this veggie-heavy dish also gives it a nice end-of-summer flavor and feel. Want to get creative? Add any of the culinary herbs in your garden to the dish to ramp up the phytochemical (aka plant nutrient) content even more.
Late Summer Harvest Recipe: Herbal Ratatouille
1 medium eggplant 
2 small zucchinis
1-2 purple bell peppers
1 yellow onion
2-3 heirloom tomatoes
2-3 cloves garlic
2 TBL avocado oil or ghee
1 TBL minced fresh oregano
2 TBL minced fresh basil
Salt and pepper to taste
Directions
step 1
Pre-heat oven to 350 degrees. Heat a large ovenproof skillet over medium heat, adding 1 TBL of high-temp safe fat to the pan (such as avocado or ghee). Chop eggplant and add to the pan, sautéing until wilted, 5-10 minutes.
step 2
While sautéing the eggplant rough chop your zucchini, bell pepper, onions, and tomatoes. Mince garlic, oregano, and basil and set aside. Remove pan from heat and add other vegetables, mixing well to combine.
step 3
Add another 1-2 TBL of oil/fat, minced herbs, salt, and pepper to the pan and mix well. Place in the oven and bake until vegetables are tender (20-35 minutes).
step 4
Remove from heat and serve! Drizzle with fresh olive oil and additional fresh minced basil for an added burst of summer flavor. This dish can be served on its own or with your favorite bread, baked crostini or pasta!
Medicinal Herbs
By using medicinal herbs like the basil, garlic, and oregano featured in this dish, you can increase the phytonutrient content of your meals. Oregano and garlic are classic antimicrobial herbs that help support both immune and digestive health. Basil gives this dish a nice carminative touch and adds a little bit of late summer cheer with its classic summer taste. 
About Anna Marie Beauchemin
Anna is a trained clinical herbalist and holistic nutritionist, and biologist with a strong background in the culinary art who aims to bridge the worlds of herbalism, cooking, and garden-centric ecology through her work. She holds a Bachelor of Science in Conservation and Resource Studies from the University of California Berkeley and is a registered Clinical Herbalist through the AHG who has studied clinic-based herbalism with a variety of respected teachers and institutions.
Note: The information in this article is for educational purposes only and is not intended to diagnose, treat, cure, or prevent any disease. Please make sure to consult with a licensed physician before adding herbal or dietary supplements into your life, especially if you are pregnant, nursing, or on medication.