4 Best Plants & Herbs for Immunity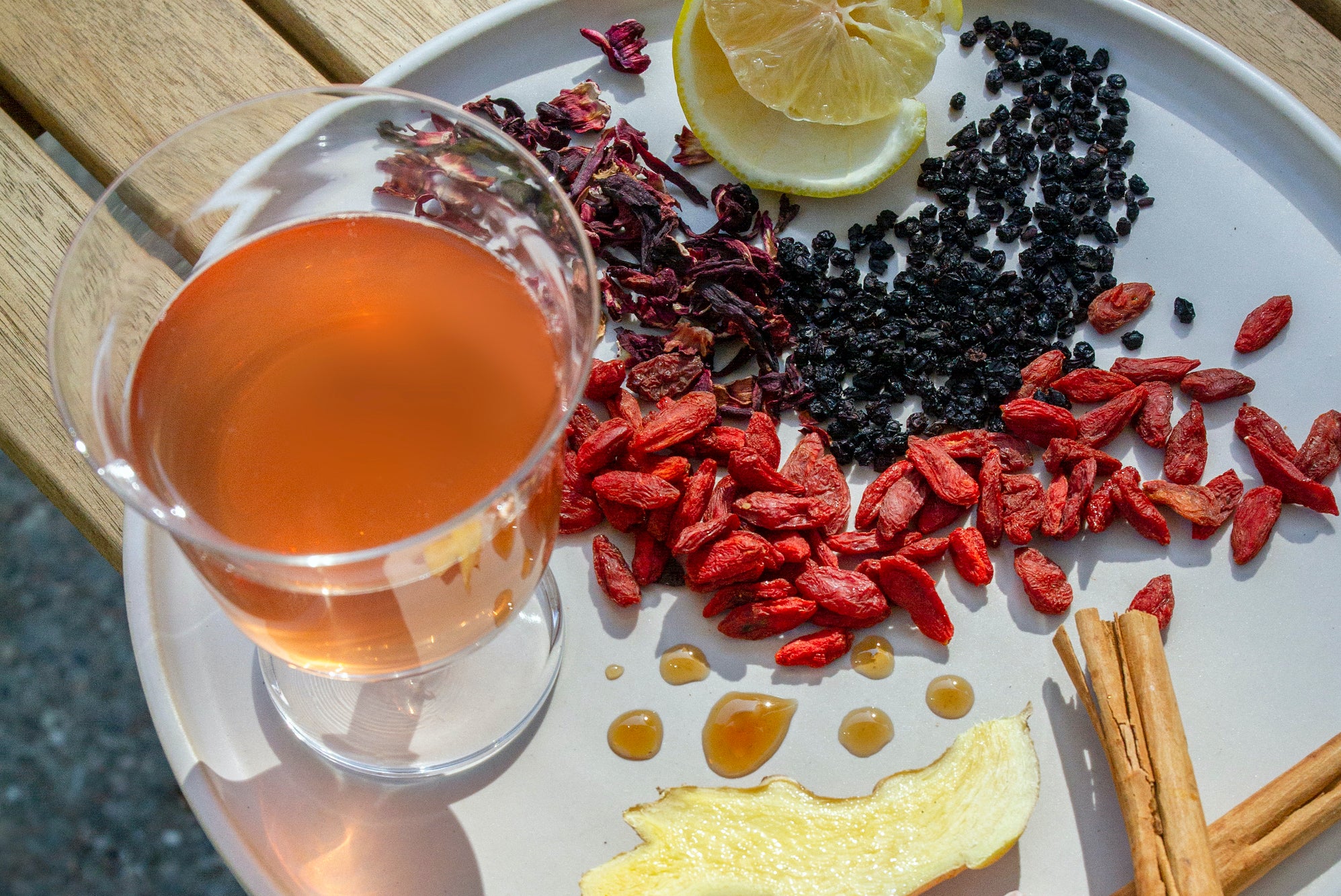 The once vibrant leaves of spring fall to the ground, the sultry air of the summer becomes crisp and biting, and Mother Earth prepares for her long winter slumber. As the seasons change and we notice the beautiful metamorphosis that Fall brings to nature, it is important that we also notice how these changes can affect our health. In herbalism, to prepare for this transition we turn to plants that have an affinity for the immune system.
IMMUNITY
Plants that are supportive to the immune system become our go-to allies during the colder months. We love to incorporate them into our daily lifestyle and add them in whenever we feel like we need some extra support .Herbs such as ginger, cinnamon, thyme, and elderberry are all ones that you'll find in our home apothecaries all season long.
Some of our favorite herbs for Fall are Elderberry, Goji Berry, and Ginger - all found in our Immunity Berry Sparkling Tonic. Another includes Reishi, one of the star ingredients in both Cacao Clarity and Berry Calm Superfood Powders.
ELDERBERRY
"Elderberry is one of my favorite herbs - traditionally it's been used as an antiviral herb for cold care, and it tastes DELICIOUS in tea or syrup."
- Eliza, Sunwink co-founder
When it comes to immune-supportive herbs, there are few as loved and well used as Elderberry. Elderberry (Sambucus nigra) has been used by herbalists all over the world for hundreds of years and grows wild on multiple continents. The berries of this magical plant are well-known for their antiviral constituents. Rich in polyphenols, vitamins and minerals, these tasty little berries have traditionally been used to support our bodies whenever we're feeling a little under the weather and could use a boost. We love to take elderberry as a syrup, or of course, in our Immunity Berry blend.
Sunwink co-founder Eliza shares her go-to immunity recipe below:
"Here's a simple immunity herbal blend (technically called an 'herbal decoction') that you can make in your kitchen. You'll notice it uses the same herbs that are in our Immunity Berry sparkling herbal tonic!"
Ingredients
4 cups water

1 tbsp each: elderberry, hibiscus, and goji berries

1/2 tbsp each: ginger (dried or fresh) and cinnamon

Maple syrup
Instructions
Add 4 cups of water to a pot.

Add 1 tbsp each: elderberry, hibiscus, and goji berries.

Add 1/2 tbsp each: ginger (dried or fresh) and cinnamon.

Bring to a boil. Then, simmer for 15 to 20 minutes. Strain.

Add maple syrup to taste and enjoy!
GOJI BERRY
Commonly used as both food and medicine in Traditional Chinese Medicine, these tasty berries also pack a serious punch of Vitamin C! Full of beneficial vitamins and minerals, goji berries do their share of the work in helping to boost our immune systems.
GINGER
This warming root is most well-known for its digestion-supporting properties. Not only do we love ginger for its ability to help aid in digestion and soothe an upset stomach but also for its traditional use in supporting the immune system. Ginger is also a wonderful and easy herb to incorporate in the kitchen from broths, to smoothies, to breads, to cookies, etc. We love to add ginger to everything we can during the fall and winter months.
REISHI
Beyond their rich flavor that seems to land them on the menu at almost every upscale restaurant these days, we also love mushrooms, particularly Reishi, for their nutritional benefits. Reish has been used as a tonic herb for centuries in Traditional Chinese Medicine, and is best known for its immune-nourishing properties. You can find this powerhouse herb in both Berry Calm and Cacao Clarity Superfood Powders.
Check out this focus and  immune-boosting Hot Cocoa recipe from Sunwink herbalist, Anna Beauchemin, featuring Sunwink Cacao Clarity perfect for the cooler months.
Ingredients
2 - 3 cups milk (oat is wonderfully creamy!)

2 - 3 tbsp cacao

1 tbsp cocoa

1 - 2 tsp Sunwink Cacao Clarity Superfood Powder

2 - 4 cups water

2 - 3 tbsp maple syrup or preferred sweetener

½ tsp vanilla extract
Instructions
Add milk and powdered ingredients to a small saucepan over low heat and whisk.

Add sweetener and whisk until dissolved.

Top with whipped cream and cacao nibs if desired and enjoy!
At Sunwink, we know that doing things "DIY" is not always an option, which is why we create products for easy, convenient and delicious immune support. Stock up on Sunwink today, and boost your immune system all season long!