Super[food]charge Your Immune System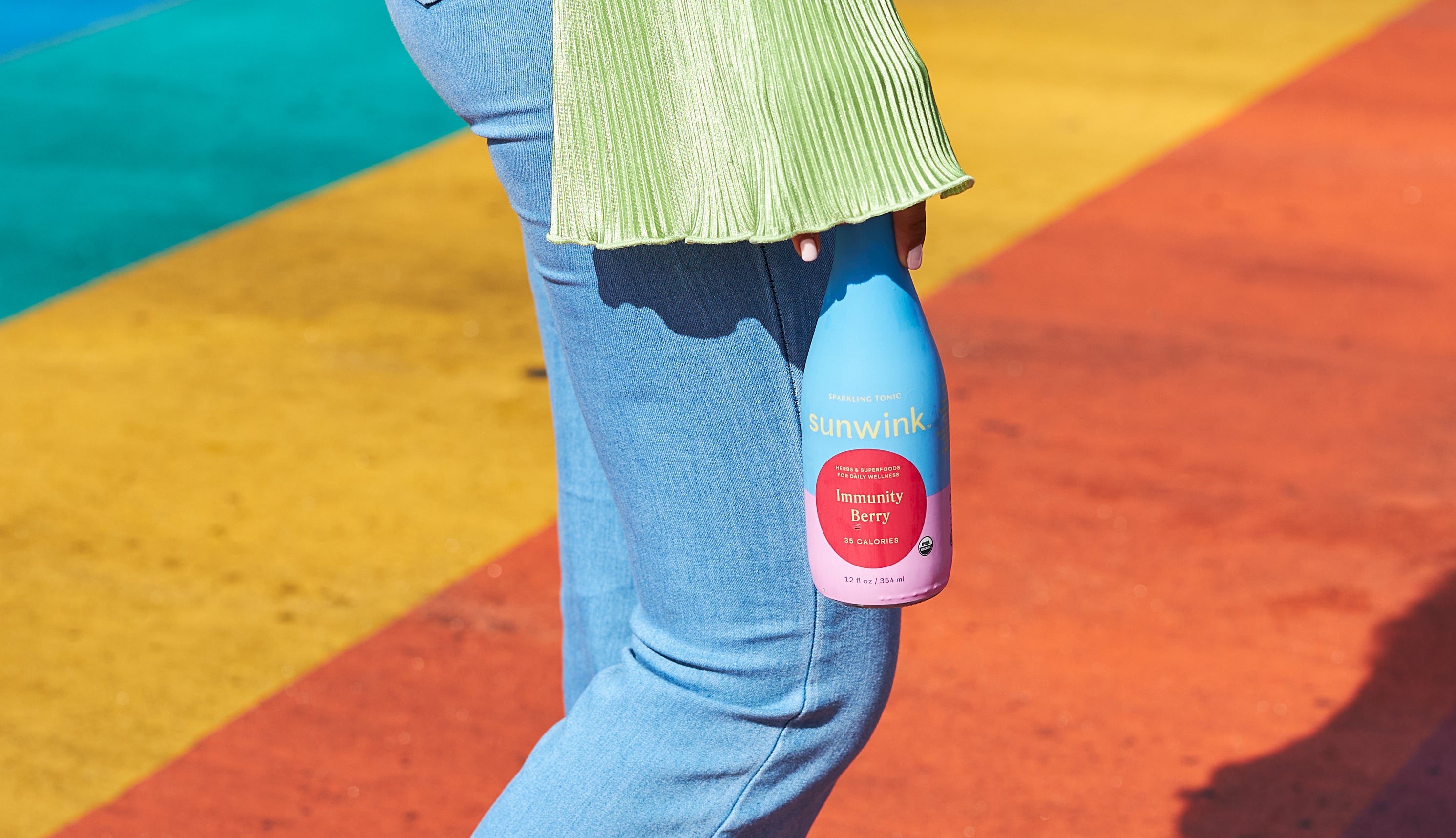 By Anna Marie Beauchemin / Clinical Herbalist + Holistic Nutritionist
Fall is officially in full swing which means colder weather and with that, often weakened immune systems. We're determined to stay healthy this season, so we're turning to superfoods for immunity - incorporating them into our daily routines and adding them in whenever we feel like we need some extra support. You can find some of our favorite immunity herbs for Fall like Elderberry, Goji Berry, and Ginger in our Immunity Berry Sparkling Tonic and Reishi in our Cacao Clarity Superfood Powder.
We chatted with clinical herbalist Anna Marie Beauchemin to learn more about seasonal change, some of those immune-supporting herbs previously mentioned and her tips and tricks for staying healthy this season. Let's dive in!
Seasonal Change
With the seasonal change upon us, Sunwink asked me to take a deep dive into immune supportive herbs and practices for taking care during this transitional time. When it comes to moving into fall with grace and preparing the body for winter, it's all about immune system nourishment and taking more time for rest. To learn more about some of the Sunwink herbals that I love most for seasonal change see below:
Sunwink's Immune Supportive Herbs + Foods
Reishi: one of my favorite deep immune nourishers, this medicinal mushroom is one that I start incorporating into my diet come fall. A traditional herb in the Traditional Chinese Medicine (TCM) system, reishi has made its way into my medicine chest for the colder months for bolstering the immune system before I get sick. I prefer to use this herb when I'm feeling well to provide deep nourishment and turn to other herbs once I get sick. Reishi can be brewed into soups and broths or taken as a powder in foods and drinks too.  
Ginger: a classic immune support root, itss spicy, stimulating, and diaphoretic (i.e. helps make you sweat) properties make it an ideal herb to keep on hand during the cooler months. Once fall hits I'll start to incorporate more warming herbs, like ginger, into my diet via soups, teas, and drinks to help keep my system toasty and activated as I head into the cooler months. Ginger is one of my favorite teas to take when I am feeling under the weather or when I am trying to ward off a cold or flu.
Goji Berry: nutrient dense and immune supporting, goji berries are another one of the Sunwink herbals that I start to use more when the season shifts. Rich in Vitamin C, these superfood berries are a great addition to syrups (like elderberry), teas, and broths. You can also simply snack on the berries, making them an easy way to support the body during the months ahead.
Extra Tips For Staying Healthy During Seasonal Change
While the herbs and foods mentioned above are part of my arsenal for cold season health, treating my mind with the same care as my body is always a part of my seasonal routine. When the weather begins to shift, I start to think of slowing down, moving slow, and grounding myself for the season ahead. While the hustle and bustle of summer is always fun and exciting, in order to nourish our bodies and immune systems for the months ahead, taking a slower pace and getting extra rest can be helpful, especially before the holiday season takes hold. I love to spend this time preparing soups, going to bed early, and making sure to move my body in slow and intentional ways to generate movement and flow as things cool down.
About Anna Marie Beauchemin
Anna is a trained clinical herbalist and holistic nutritionist, and biologist with a strong background in the culinary art who aims to bridge the worlds of herbalism, cooking, and garden-centric ecology through her work. She holds a Bachelor of Science in Conservation and Resource Studies from the University of California Berkeley and is a registered Clinical Herbalist through the AHG who has studied clinic-based herbalism with a variety of respected teachers and institutions.
Note: The information in this article is for educational purposes only and is not intended to diagnose, treat, cure, or prevent any disease. Please make sure to consult with a licensed physician before adding herbal or dietary supplements into your life, especially if you are pregnant, nursing, or on medication.