Superfood Powder: How It Works & What You Should Look For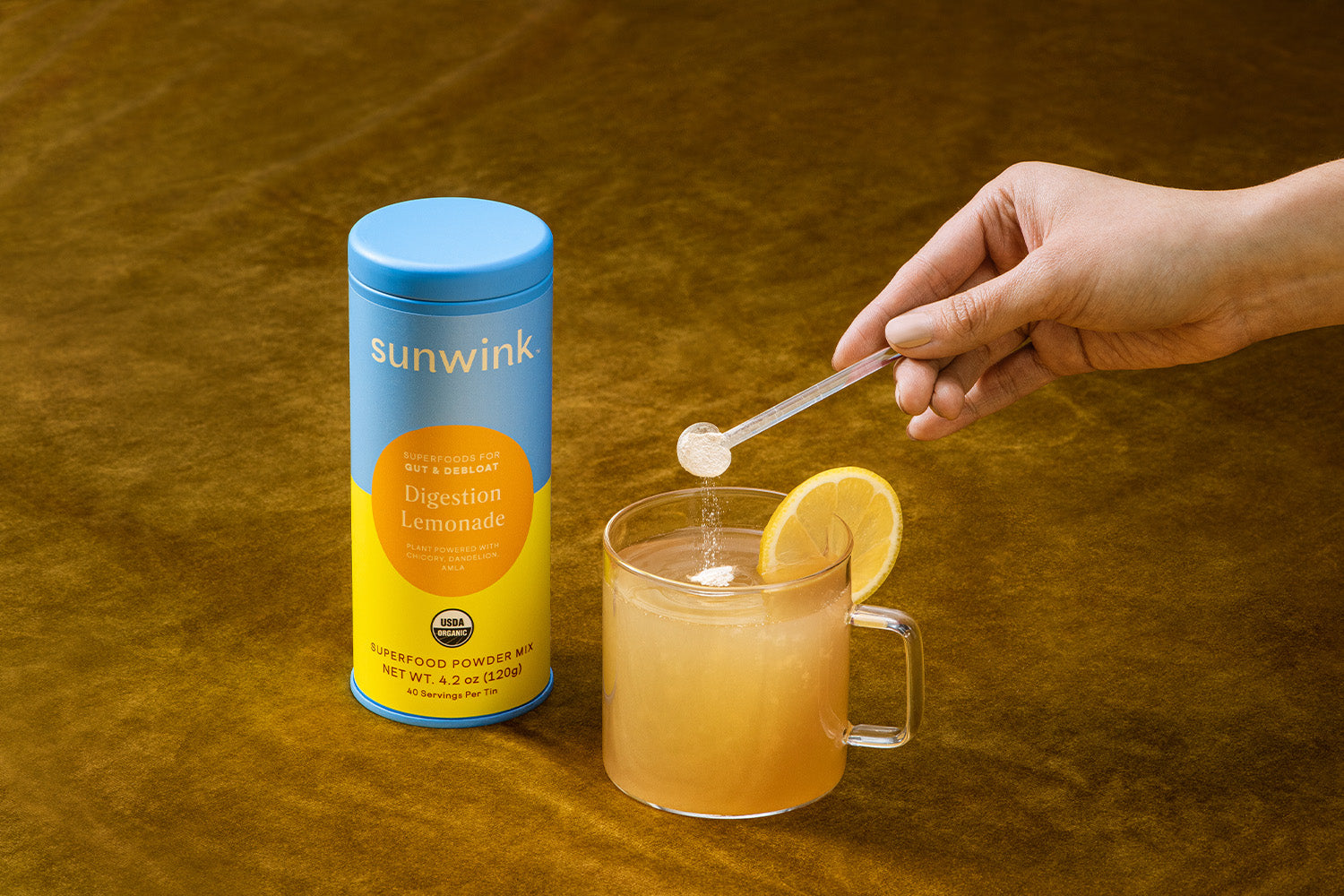 Even if you eat plenty of fruits and vegetables, you may not be getting all the vitamins and minerals that you need. 
But even if you are meeting your nutritional needs, it's a far cry from what you need to look and feel your absolute best.
Thankfully, superfood powders might be just what you need to bridge the gap between what you're eating and what you should be eating. But how do you know which superfood powders are all hype and which ones actually work? 
This beginner's guide from Sunwink helps explain superfoods and superfood powders, including what to look for when choosing your next superfood powder. 
What Are Superfood Powders?
Superfoods are foods that are packed with nutrients that can support daily wellness, illuminate your appearance, and generally help you feel better. 
Eating platefuls of vegetables isn't a realistic diet for everyone, so putting these superfoods into powder form makes them easy to add into your daily diet. These can be easily mixed with water or blended with a smoothie. While some superfood powders come from plant extracts, others can come from juiced fruit or vegetables. 
What Are the Benefits of Superfood Powders?
Superfoods are very high in nutrients, which is a broad term that basically refers to the following:
Vitamins. Vitamins are essential organic nutrients that only come from plants and animals. They perform many vital roles in your overall health, such as boosting the immune system, helping to strengthen the bones, and supporting the skin, amongst many others. Superfoods are super high in some vitamins like vitamin C, and can help make it more convenient to eat a balanced diet. 
Minerals. Minerals like sodium, potassium, and magnesium are inorganic elements that have many essential functions in the body. We used to get many of our minerals from soil, but due to decades of harmful farming practices, the mineral content of our food has decreased. Fortunately, superfoods like cacao can provide our bodies with the minerals we're not getting from our regular diets. 
Phytonutrients. Phytonutrients give fruits and vegetables their vibrant colors. These can be found in all sorts of superfoods that promote many different areas of wellness. For instance, zeaxanthin — found in dark leafy greens — has been shown to promote eye health. 
Probiotics & Prebiotics: Gut health is an important part of your overall health. Probiotics are healthy bacteria that can support balance in your gut's microbiome, while prebiotics can specifically suport good gut bacteria and help them thrive. Some superfoods contain probiotics, some contain prebiotics, and some even contain both. 
What Are Some Common Superfoods? 
There are dozens of superfoods, but some of them are classics — and for a good reason. Time after time, they've been shown to offer potential health benefits. That's why so many people keep coming back to them.
Here are some common superfoods to add to your repertoire: 
Açai: The mighty açai berry is super high in antioxidants — possibly even higher than cranberries, blackberries, or blueberries. Not only can this berry protect from free radicals, but it may also support healthy blood sugar levels, promote glowing skin, and give the immune system some extra support. Plus, acai bowls are delicious and Insta-worthy breakfasts.
Cacao: Not to be confused with highly-processed cocoa powder, raw cacao is chock-full of nutrients like iron, magnesium, and potassium. It's a rich addition to any dessert or smoothie. You can find all of these minerals and more in our adaptogen-filled Cacao Clarity Superfood Powder. 
Camu camu: This superfood comes from berries that are native to Brazil. Camu camu is high in vitamin C, a nutrient famous for its immunity-supporting benefits. Your body also needs it to synthesize collagen, which is a must for smooth skin. Plus, one teaspoon of camu camu has almost 800% of the daily recommended amount of vitamin D, another essential nutrient. 
Chlorella: Chlorella is a type of algae native to the South Pacific Ocean. It gets its stunning dark green color from different phytonutrients, which can have detoxifying effects in the body. Plus, it's high in vitamin B12, vitamin A, iron, and protein. 
Maca: Maca comes from the root of a cruciferous vegetable native to Peru. It's super high in iodine, which can help support thyroid health. It also has a pleasant butterscotch flavor, which tastes amazing in smoothies. 
Matcha: Matcha is like green tea but more concentrated. It contains incredibly high amounts of chlorophyll, which can support the body's own detoxification system. It's also rich in flavonoids, which are phytonutrients that can promote glowing, blemish-free skin. 
Spirulina: Similar to chlorella, spirulina is a dark green algae found in saltwater. It's high in essential nutrients like iron, beta-carotene, and vitamin B12. Plus, it's full of antioxidants, which can help support your body's natural defenses against sun damage. You can find spirulina in our Detox Greens Superfood Powder. 
Turmeric: A popular spice in Middle Eastern cuisine, turmeric has sprung into the health scene as a super superfood. It contains an antioxidant called curcumin, which is a strong soothing agent for your body. Turmeric can help soothe swelling and discomfort, which in turn helps support your body's natural healing processes. You can find these benefits and more in our Turmeric Recover Sparkling Superfood Tonic. 
What Should You Look for in Superfood Powders?
If you're convinced you need to add superfood powders to your wellness routine, here are some tips to help you choose the right one: 
1. Look at the Ingredients 
Superfood powders aren't multivitamins. In other words, they aren't do-it-all, but instead have specific purposes like promoting a glowing complexion, supporting gut health, or helping you relax and unwind. 
Ask yourself what you're looking to achieve and choose ingredients that help get you there. 
For instance, if you're looking for something to help with relaxation, then ashwagandha is an awesome superfood for that. On the other hand, if you want to quell nausea after eating, ginger can help you get comfortable. 
2. Make Sure It's Organic 
Incorporating superfoods into your diet shows that you're trying to support your body as much as you can. So, the last thing you need is a hefty dose of pesticides and fertilizers to undo everything. 
Make sure that the superfood powder you buy is organic. If you're buying in the U.S., you should see a stamp of approval from the United States Department of Agriculture (USDA). Make sure to look for phrases like "freeze-dried" and "organic."
3. Check for Additives 
Some superfood powders contain potentially harmful additives like artificial sweeteners, natural flavors, and food coloring. Check the ingredient list to make sure that it contains only whole foods like dried fruits or vegetables. And if you're sensitive to some sweeteners, like stevia, make sure the ingredient list is free from them. 
4. Go for Metal-Tested Products
Some superfood powders can contain heavy metals, which can accumulate in your body if you consume enough of them. To avoid this, choose brands that check for heavy metals in all their ingredients like Sunwink. 
Superfoods for Looking and Feeling Your Best
Most times, it gets difficult to maintain a perfectly balanced diet. The type of diet that this would require today just isn't realistic for everyone. That's where superfoods come in.
Superfood powders can help you look and feel amazing by giving you an extra boost of nutrients. And with Sunwink's line of versatile superfood powders, they can taste amazing, too. 
Sources: 
Free radicals, antioxidants and functional foods: Impact on human health | PMC
Zeaxanthin: Metabolism, Properties, and Antioxidant Protection of Eyes, Heart, Liver, and Skin | PMC
Ubiquity and quantitative significance of detoxification catabolism of chlorophyll associated with protistan herbivory | PNAS