Superfoods for the Holidays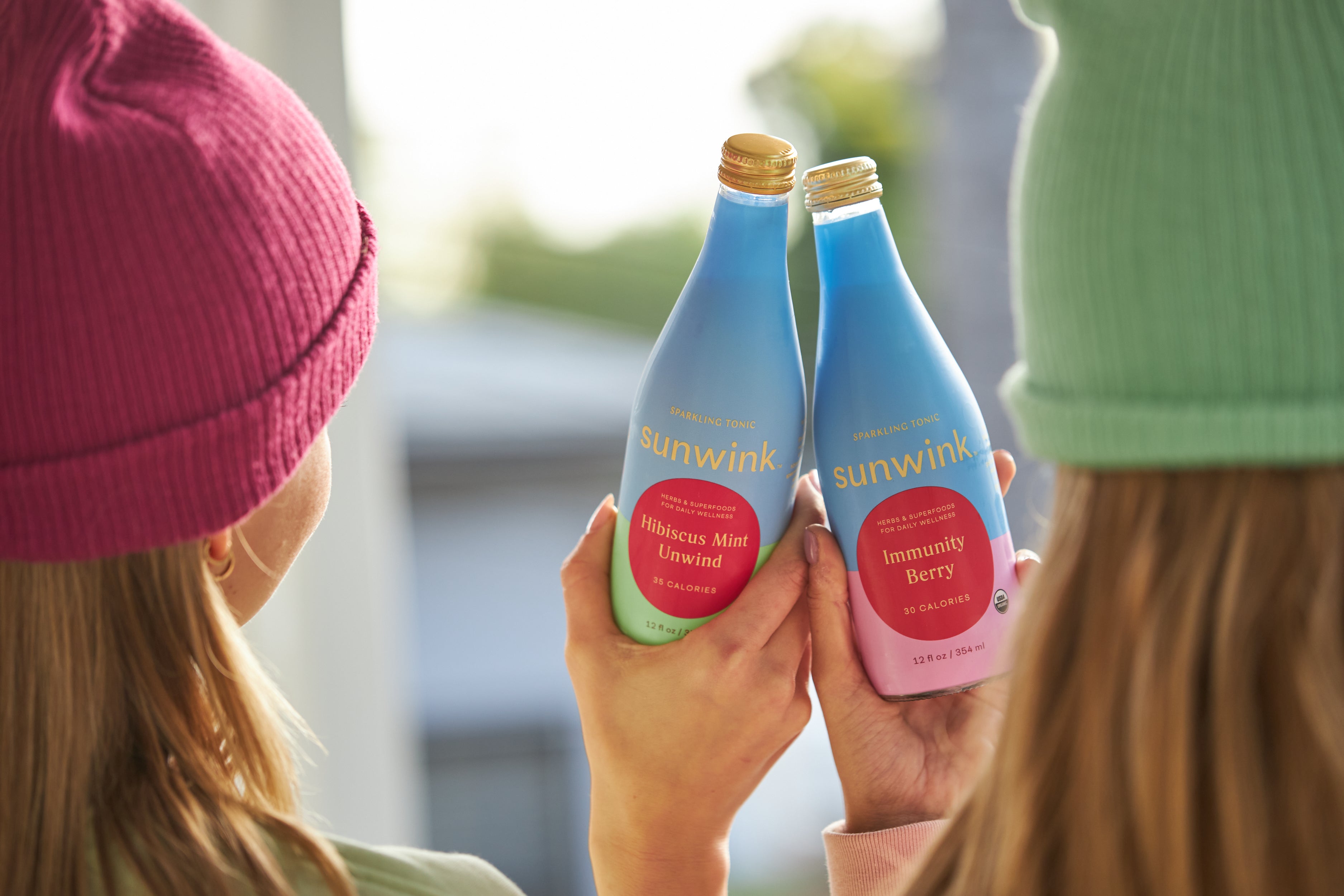 The holidays are here, and we couldn't be more excited for everything that comes with that. To stay sane, we're turning to what we know will ground us throughout the craziness - think snuggling up to the fireplace sipping a Sunwink Hot Cacao Clarity Latte. That means stocking our pantries and fridges with fan favorites for de-stress, focus and detox. Here's what we're sipping on!
Digestion Lemonade - We're making our lemon water do more for us with a scoop of this powder (and viral TikTok sensation) for de-bloat and healthy digestion all winter long.
Cacao Clarity - This is our go-to alternative or addition to coffee to help us keep up with the holiday craze without the crash. Someone pass the marshmallows!
Hibiscus Mint Unwind - Trying to drink less during the holidays or get a head start on Dry January? Opt for this Superfood Tonic featuring Ashwagandha for relaxation support.
Detox Ginger / Digestion Lemon - We're bringing these crowd pleasers to all our holiday parties, and we know everyone will be thanking us. Cheers!

In addition to keeping our shelves Sunwink-stocked, we chatted with clinical herbalist and holistic nutritionist Anna Marie Beauchemin to learn a few tricks she has for staying sane during this time.
Staying Sane For During The Holidays
As someone who both loves the holidays and can also get overwhelmed by them, I was so pleased when Sunwink asked me for some tips for staying sane during the craziness! Over the years I've built a little routine for myself for this hectic time of year, which I'm so happy to share with all of you below:
Adaptogens!
Short periods of time when external stressors are beyond your control are an excellent time to employ the help of one of the botanical world's most valued allies - adaptogens. I start taking my signature holiday adaptogen elixir in early December (or November if I'm traveling for work) and keep it going through the holidays. Does it erase the craziness of the season? No! But it does help me feel just a little more grounded despite all the plates spinning in the air.
Nightly Tea
Even as an herbalist I don't sit down every single night with a cup of tea, but during the holidays, I try very hard to do so. Having a grounding nightly routine allows me a moment to check in with myself and see how I'm feeling and provides a moment of consistency amongst a likely not consistent daily schedule. You can even enjoy your nightly tea after an evening of indulgence, choosing herbals to help your body process and restore after a night out with friends/family. Bitter herbs and liver supportive herbs can be a great addition to tea if it's been an indulgent time.
Snacking Veggies
Eating out and going to parties can shake up your normal eating routine and can often lead to getting fewer veggies than we're used to. The holiday season is a great time to introduce the snacking veggie if you haven't already. Veggies like carrots, sweet potatoes, broccoli, brussels sprouts, and beets can be roasted ahead of time and thrown in the fridge for daily snacking. Doing this helps me continue to get my veggies despite meals out and holiday parties. Bonus - cruciferous veggies (like the broccoli and brussels sprouts) are a great little snack food for giving your body's natural detoxification systems a little extra love.
The New Pregame
Every Sunday before I head to the farmer's market I make a mental inventory of the week, keeping in mind how much I'll be eating out, how social I am going to be, and how much activity will be packed in. I then plan my days with no commitments around that, making sure to make space for rest, and planning meals at home to help balance the mayhem. If I'm planning for a busy weekend with a lot of eating out t and socializing, I may make a point to make no plans during the week and get plenty of sleep, keep things in the kitchen light and healthy, and maybe even sneak in some immune boosting herbals to pregame for the social madness that lies ahead.
About Anna Marie Beauchemin
Anna is a trained clinical herbalist and holistic nutritionist, and biologist with a strong background in the culinary art who aims to bridge the worlds of herbalism, cooking, and garden-centric ecology through her work. She holds a Bachelor of Science in Conservation and Resource Studies from the University of California Berkeley and is a registered Clinical Herbalist through the AHG who has studied clinic-based herbalism with a variety of respected teachers and institutions.
Note: The information in this article is for educational purposes only and is not intended to diagnose, treat, cure, or prevent any disease. Please make sure to consult with a licensed physician before adding herbal or dietary supplements into your life, especially if you are pregnant, nursing, or on medication.