5 Recipes to Make for the 4th of July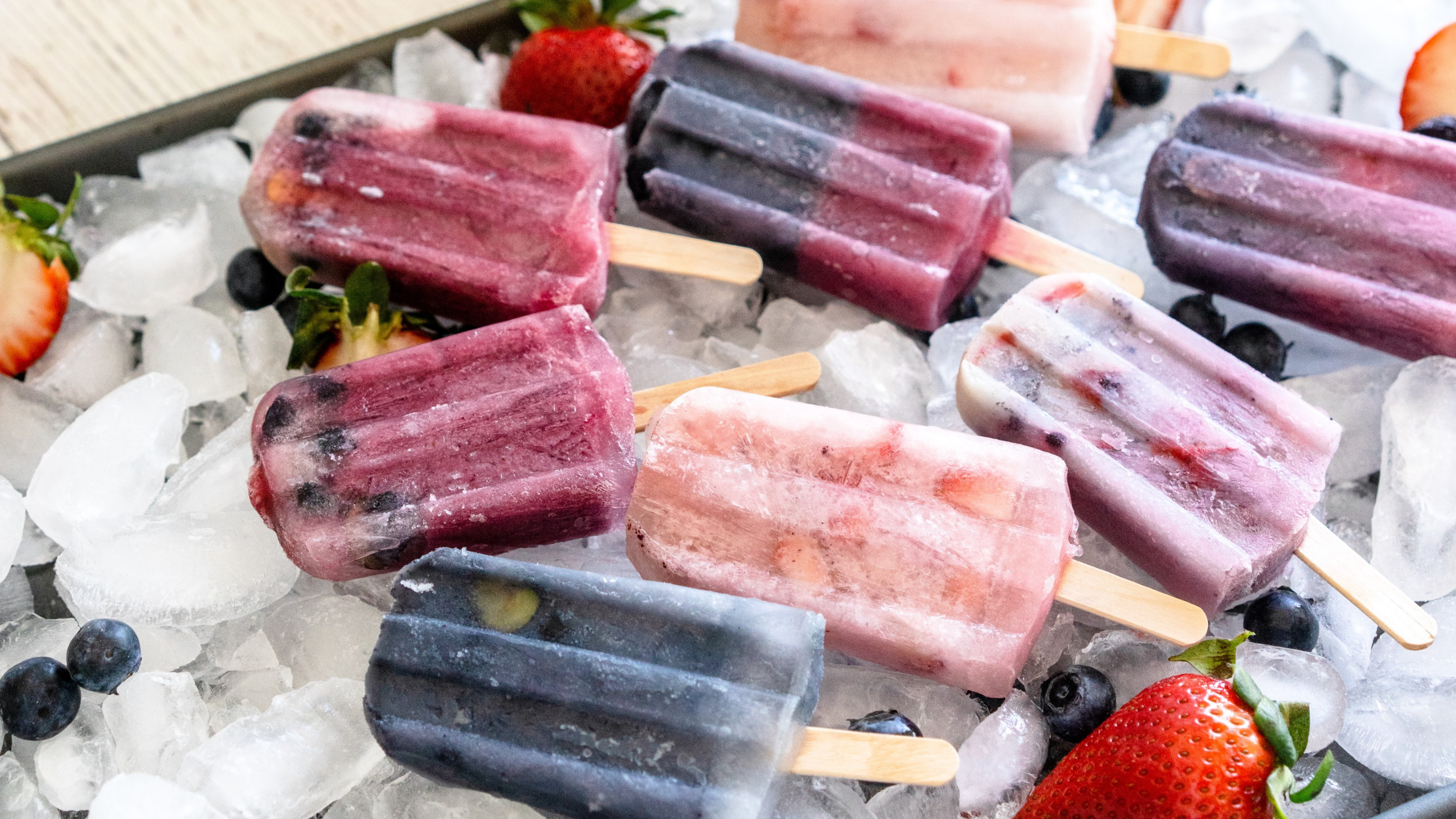 The smell of burgers on the grill, the sound of friends and family splashing around in the pool, and the sight of colorful fireworks lighting up a dark blue sky––these are the sensations that get us excited for the Fourth of July! Independence Day is one of the best holidays to celebrate the Summer season with our favorite people. We play, dance and laugh, which is why this day is great for bringing people together, especially over good food and great drinks.
That's why we've got you covered for recipe inspiration, from mocktails to desserts, for your upcoming 4th of July get-together. Here are five recipes to keep you and your guests refreshed and ready for the festivities.
Arianna Kotlier's Berry Protein Yogurt Bowl
Before you start prepping ingredients for your barbecued feast, kick off the day with a protein-packed, superfood yogurt bowl. Arianna mixes our Berry Calm Superfood Powder and plant-based protein powder into yogurt and tops it off with fresh fruits and nuts to make the ultimate breakfast of champions.
INGREDIENTS
2 tsp Sunwink Berry Calm Superfood Powder 
1 cup plant-based yogurt (almond, soy, oat, coconut, etc) 
2 tbsp plant-based protein powder
1/2 banana, sliced
1 tsp ground flax seeds
1 tbsp walnut pieces 
1 medium peach or nectarine, diced 
Dash of cinnamon
Drizzle of honey or maple syrup (optional) 
INSTRUCTIONS
Mix protein powder in a bowl with a small amount of water (1-2 tbsp) until it forms a thick paste. 

Add plant-based yogurt and mix thoroughly until you have a nice creamy texture with no lumps. 

Add in the Berry Calm Superfood Powder and swirl gently for a marbled look.

Add sliced banana and diced peach on top, along with the walnuts and ground flax. Sprinkle cinnamon over top, drizzle  honey or maple syrup and enjoy! 
Sofya Leonova's Ginger Turmeric Mojito
Fresh mint and limes—a dynamic duo and staple ingredients for a classic mojito. Sofya puts her own non-alcoholic twist on it by adding our Turmeric Recover Tonic and jazzing it up with ginger and brown sugar.
INGREDIENTS
6 oz Turmeric Recover Tonic
1 cup of ice
1/2 lime cut into quarters
1 medium-sized knob of ginger (sliced)
2 tablespoons of brown sugar
3 sprigs of mint
INSTRUCTIONS
Combine ginger, lime, and brown sugar in a glass and muddle the ingredients until the sugar has dissolved.

Add ice on top.

Pour Turmeric Recover Tonic over the ice and serve.
Teresa Barajas' Berry Tonic Popsicles
Popsicles are the perfect summer treat to keep your guests cool in the heat. Teresa's recipe is inspired by her Mexican heritage and the paletas she grew up eating. She combines our Berry Calm Superfood Powder and our Immunity Berry Tonic with fresh strawberries and blueberries to make a delicious, frozen pop.
INGREDIENTS
1 tablespoon Berry Calm Superfood Powder
12 oz Immunity Berry Tonic
1 cup of almond milk (or milk of your choice)
2 tbsp maple syrup
½ cup fresh strawberries, diced
¼ cup fresh blueberries halved
¼ cup blueberries, whole
INSTRUCTIONS
Dice and slice strawberries and blueberries. Set aside.

Combine almond milk, maple syrup, and Sunwink Berry Calm Powder in a blender.

Transfer to a cup with a spout for an easy pour.

In a popsicle mold, add strawberries to half of the mold and blueberries to the other half.

Pour in the milk mixture, filling only halfway up. To the other half, pour the Immunity Berry Tonic, only halfway up.

Freeze for approximately 8 hours.

Remove the mold from the freezer and fill the remainder of the milk mixture and Tonic, to create a layered effect.

Add popsicle sticks to mold and freeze overnight.

Later, remove from the freezer and run lukewarm water under the mold.

Enjoy!
Jason Eisner's Rose & Lemon Poppy Spritz
Lemon and Rose are strong flavors but when combined, they will ignite your taste buds and leave you feeling uplifted and ready for the holiday fun. Jason, a cocktail creator and connoisseur, created this recipe featuring  our Lemon-Rose Uplift Tonic and gin from our friends at AMASS.
INGREDIENTS
2 oz Lemon-Rose Uplift Tonic
2 oz AMASS gin 
.75 oz freshly squeezed lemon juice 
.75 oz zest poppy syrup (1 cup sugar, 1 cup water, 1 tbsp ground poppy seeds, zest of ½ lemon) 
Lemon twist to garnish
INSTRUCTIONS
Combine gin, lemon juice and zesty poppy syrup in a cocktail shaker. 

Fill the shaker with ice, cover and shake vigorously until the outside of the shaker is frosty. 

Fine strain into glass. 

Top with Sunwink Lemon Rose Uplift. Garnish with lemon twist.
Jayde Powell's White Chocolate Raspberry Bread Pudding
After a day of eating grilled foods and summer salads, topping off the 4th of July menu with a chocolatey dessert is never a bad idea. Jayde's bread pudding recipe incorporates our Berry Calm Superfood Powder with fresh raspberries and white chocolate. The best part––you can serve it with classic, vanilla ice cream for an indulgent, sweet bite.
INGREDIENTS
1 tablespoon Berry Calm Superfood Powder
5 croissants
6 eggs
1 cup of granulated sugar
3 teaspoons of vanilla extract or vanilla flavoring
2 cups of whole milk (or milk of your choice)
4 oz of white chocolate, roughly chopped
6 oz of raspberries
INSTRUCTIONS
Preheat the oven to 350º and line a 9x13 or similar baking dish with parchment paper.

In a bowl, whisk together milk, eggs, vanilla extract, sugar, and Berry Calm Superfood Powder, and set aside,

Tear pieces of the croissants and place them into the baking dish, then top with white chocolate pieces and raspberries.

Pour wet mixture over the croissants.

Cover with aluminum foil and bake for 20 minutes.

When done, remove from the oven and serve warm with vanilla ice cream or whipped cream.
These five refreshing and delicious recipes are sure to keep the 4th of July activities festive and fun, but if you're looking for even more recipes, check out our
Recipe E-Book
for plant powered goodness.