6 Non-Alcoholic Wedding Drinks Everyone Will Love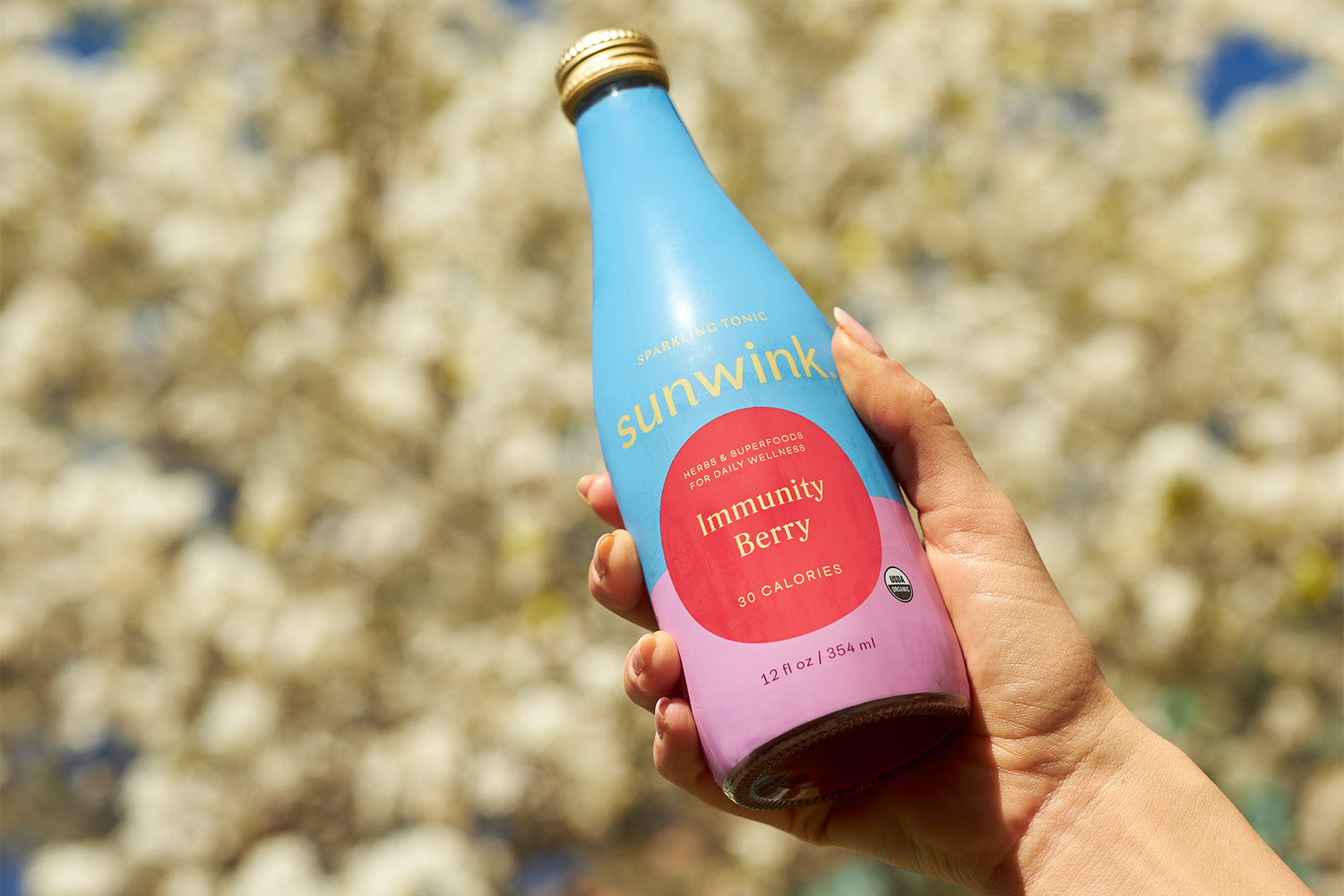 Cocktail hour is a fun part of any day — but as much as we love a good boozy libation, indulging in one is not always desired. 
Whether we're detoxing, recovering from a health problem, or just trying to be more health-conscious, sometimes we have no choice but to say no to a cocktail. 
Thankfully, plenty of drinks can replace the booze and even provide an extra boost of nourishment from superfood ingredients. 
In this article from Sunwink, we give you recipes for six non-alcoholic wedding drinks that everyone is sure to love. 
1. Nourishing Fruit Punch 
This is a classic party drink for a good reason: Serving it (in a punchbowl) requires little to no effort. 
While most fruit punch recipes call for a mix of store-bought fruit juices, this recipe uses fresh berries, which are full of antioxidants and other nourishing compounds. 
Plus, instead of sugar, we use maple syrup, which is rich in essential minerals like zinc, magnesium, and potassium. 
What You'll Need: 
2 cups fresh strawberries
½ cup black grapes
¼ cup fresh blueberries
½ cup freshly-squeezed lemon juice
¼ cup pure maple syrup
5 cups chilled sparkling water or Lemon-Rose Uplift Tonic
How To Make It: 
Wash all your fruit and remove the stems. 
Dice the fruit into small pieces. 
Put all the ingredients (except for sparkling water) into a blender.
Blend on high until completely smooth.
Drain the mixture through a fine-mesh strainer.
Pour into a punch bowl (you can add ice if you want).
Top off with the chilled sparkling water.
Add fresh berries into the punch bowl to add texture (completely optional). 
2. Berry Healthy Mojito 
Mojitos are classic summer cocktails. This version adds berries (of your choice) for a boost of nutrients and some sugar-free sweetness. 
What You'll Need:
8 fresh mint leaves
2 slices of lime 
Handful of your favorite berries
Sparkling water
Ice
How To Make It: 
Combine the mint, lime, and berries in a tall glass.
Gently muddle the mixture using a muddler or the back of a spoon — but try not to overdo it!
Fill the glass with ice.
Top off with sparkling water.
Don't forget to add a straw!
Bonus: Add Sunwink's Berry Healthy Skin Powder for a boost of feel-good nutrients.
3. Immune-Boosting Moscow Mule
While traditional Moscow Mule recipes use only ginger beer, our version adds fresh ginger. 
Ginger has many properties that make it a great source of support for your immune system. Plus, it's great for balancing any nausea that may come with overindulging at a wedding reception. 
What You'll Need:
2 tablespoons fresh lime juice
½ tablespoon grated ginger
5 ounces non-alcoholic ginger beer
A dash of Angostura bitters
1 cup ice
Slice of lime and mint sprig (for garnish)
How To Make It: 
Grab a large copper mug and fill it with ice.
Combine all the ingredients in the mug and stir to mix.
Garnish the cocktail with a slice of lime and a mint sprig.
4. Refreshing Cucumber Lemonade 
This refreshing cocktail uses two nourishing ingredients: cucumbers and lemons. 
We love cucumbers because they're super hydrating (which comes in clutch on a hot summer day), while lemons are full of vitamin C. 
Instead of regular sugar, like most lemonades tend to use, this recipe calls for raw honey. Raw honey has antibacterial and antifungal properties, making it a super healing ingredient. And unlike standard sweeteners, it won't spike your blood sugar. 
What You'll Need:
One fresh cucumber (sliced into chunks)
Juice of four lemons
⅓ cup raw honey
3 cups cold water
Bonus: 4 teaspoons Sunwick's Digestion Lemonade Powder
How To Make It: 
Blend the cucumber with one cup of water.
Strain the cucumber mixture through a fine-mesh strainer.
In a large pitcher, combine the cucumber juice with the lemon juice, honey, and the remaining water.
Add Sunwick's Digestion Lemonade Powder and stir until everything is combined.
Add ice (optional) and serve.
5. Mood-Boosting Piña Colada 
Pineapple, one of the main ingredients in this cocktail, is chock-full of tryptophans. These chemicals may help support your brain's serotonin levels, which play a huge role in your mood. 
And the fact that this mocktail tastes super decadent can't hurt either!
What You'll Need: 
½ cup frozen pineapple chunks 
¼ cup ice
¼ cup unsweetened coconut milk (the canned version will make for a richer flavor)
¼ cup (preferably fresh) pineapple juice
Fresh pineapple wedge and one maraschino cherry (for garnish)
How To Make It: 
Combine all your ingredients (except the pineapple wedge and maraschino cherry) in a blender
Blend on high spend until the mixture is smooth
Pour into a glass and garnish with the pineapple wedge and maraschino cherry
6. Chocolate Martini
Cocktails (and mocktails) are just important during dessert as they are during cocktail hour. 
This yummy cocktail contains plenty of chocolate, which is as close to a superfood as any dessert will ever get. 
Chocolate is a potent source of antioxidants, vitamins, and minerals, which can support good health — and a good mood. 
What You'll Need:
For the chocolate rim:
1 tablespoon liquid sweetener of your choice
2 tablespoons shaved dark chocolate
For the chocolate martini
½ cup milk of your choice (we recommend macadamia for the richest flavor)
1 tablespoon raw cacao powder
One small square of melted dark chocolate (85% cacao content or more)
1 tablespoon shaved dark chocolate (for garnish)
How To Make It: 
Start by making the chocolate rim: Grab a martini glass and coat the rim in a liquid sweetener of your choice
Dip the rim into the shaved dark chocolate and put the glass aside
Combine the milk, raw cacao powder, and melted dark chocolate in a cocktail shaker
Shake vigorously for about 10 seconds
Strain into the prepared martini glass
Sprinkle the remaining shaved dark chocolate on top 
Takeaways 
Non-alcoholic drinks can be just as exciting as the real thing — and healthier to boot. By getting rid of alcohol and adding nourishing ingredients, your guests will feel like nothing's missing. 
At Sunwink, we make nourishing, healing, and seriously delicious products — making them perfect additions to non-alcoholic wedding drinks. Check out our superfood drink powders and wellness tonics that are sure to impress your wedding guests.
Our Sources: 
Berry Phenolic Antioxidants – Implications for Human Health? | PMC
Assessment of the Potential Role of Tryptophan as the Precursor of Serotonin and Melatonin for the Aged Sleep-Wake Cycle and Immune Function: Streptopelia Risoria as a Model | PMC
Honey: Its Medicinal Property and Antibacterial Activity | PMC
Ginger from Farmyard to Town: Nutritional and Pharmacological Applications | Frontiers