Functional Foods: A Guide to Eating With a Purpose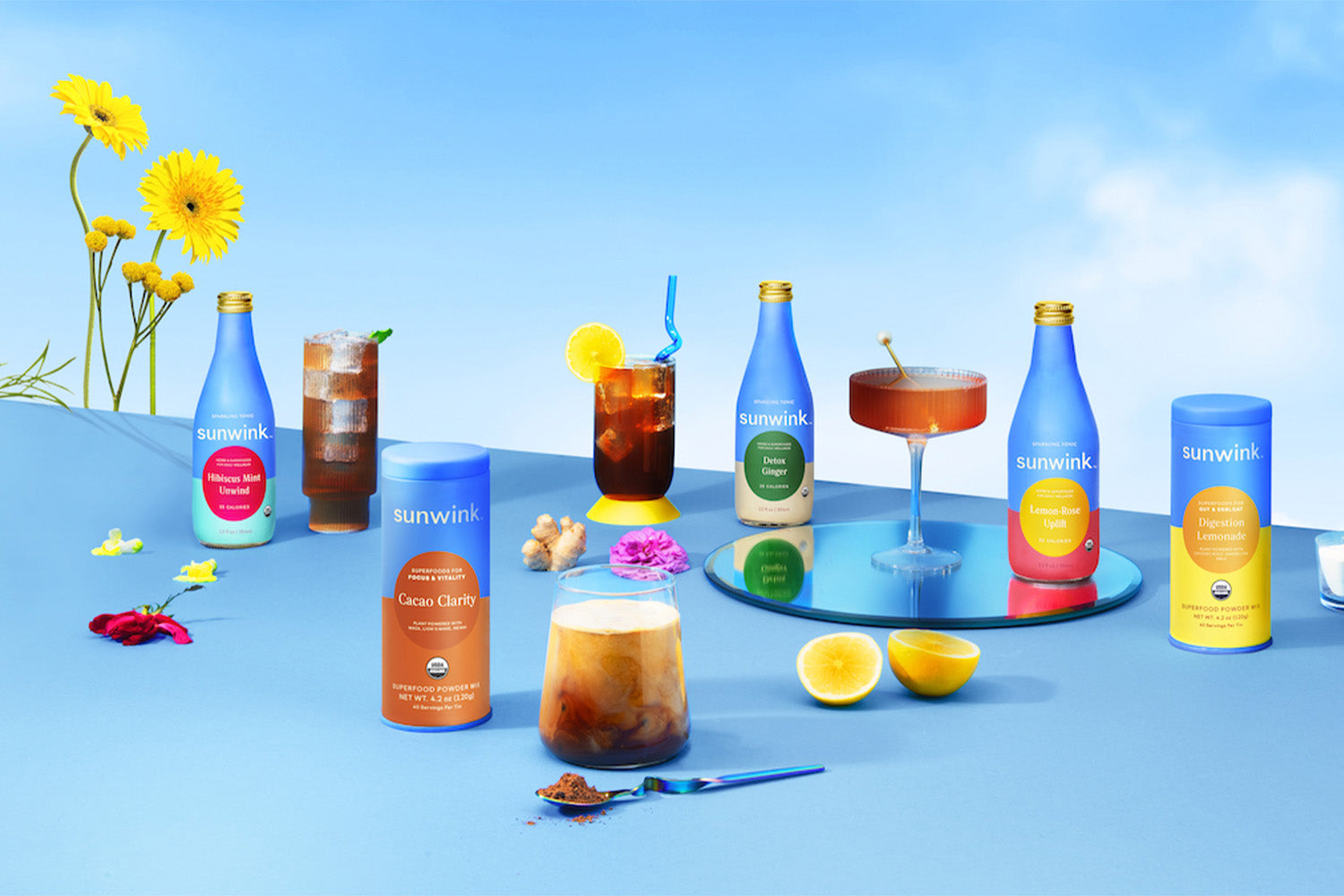 At Sunwink, we believe in empowering our community to eat healthy foods and make the best choices for their wellness — and functional food products can play a large role in that.
Many people don't realize how powerful food can be. Certain foods and food ingredients can help support and protect your overall health. Harnessing the power of food is one of the most beneficial things we can do to protect and nurture our health. This is one of the reasons why we've dedicated ourselves to creating options that encourage healthy eating. 
When you choose Sunwink, you can feel confident in your choice. We're proud to provide our community with a variety of healthy options.
Let's talk about what functional foods are and why they're so important.
What Are Functional Foods?
Functional foods are good for you on a level beyond nutrition: they impact the body in multiple ways and have a variety of health benefits.
Incorporating functional foods into your diet is one of the best ways to ensure that you're adequately fueling your body. Adding functional foods to your plate can give you peace of mind and assurance that you're taking care of your body.
Functional foods are all about increasing nutrient intake. Functional foods are good for you on multiple levels, and you should try to eat a few functional foods daily.
Functional foods can have a variety of benefits. These benefits include supporting heart health, organ function, and nervous system abilities.
Functional foods are typically very minimally processed, if at all. Whether or not a food has been heavily processed is a great thing to consider when deciding whether something has a place in your diet.
One of the best things about functional foods is that they're very accessible to most people. They're typically available at most grocery stores and won't break the bank. The next time you're at the store, look around, and you'll be amazed at how many different functional foods are lining the shelves.
What Are Some Functional Foods To Try?
We've already talked about why functional foods are so important, but what are some examples of functional foods, and how can you incorporate them into your daily routine? 
Keep reading to get some practical advice about incorporating functional foods into your diet.
1. Nuts
Full of protein, healthy fats, and dietary fiber, nuts are an easy and accessible way to make sure that you're getting needed nutrients.
Because nuts are rich in fiber, fats, and protein, they can help boost feelings of satiety. In other words, if you often find yourself reaching for a processed, junk food-y snack mid-afternoon due to a rumbling stomach, grabbing a handful of nuts instead can help keep you feeling full.

Almonds specifically are also rich in calcium and magnesium, making them great for meeting basic nutrition requirements.
2. Oats
Do you ever enjoy a steaming hot bowl of oatmeal in the morning as opposed to sugary, packaged cereals? If you do, you've been accessing more health benefits than you may realize.
Oats contain a specific fiber called beta-glucan. This fiber is most commonly found in whole grains like oats, barley, and wheat.
Beta-glucan is most known for its contributions to heart health and healthy cholesterol levels. It also can be helpful for a healthy immune system, as well as healthy blood sugar levels.
One of the great things about oats is that they're easy to add to your diet as a prebiotic and complex carbohydrate. If you don't have time to prepare breakfast in the morning, consider making overnight oats the day before and keeping them in the fridge until it's time to eat. This is a great way to make sure that you're still getting all the health benefits of oats without needing to switch up your morning routine or spend extra time making breakfast.
Top some oatmeal with blueberries, bananas, dark chocolate, and flaxseeds, and you'll have a low-fat boost of omega-3 fatty acids, potassium, and antioxidants.
3. Fruits and Vegetables
This one probably isn't shocking to you. While these whole foods are basically alwaysconsidered healthy, it's easy to forget just how much nutritional variety and benefit they can provide.
Fruits and vegetables are rich in crucial vitamins and minerals — leafy greens, for example, have calcium and iron, while berries are packed with antioxidants and citrus fruits are full of vitamin C.

Finding multiple ways to incorporate fruits and vegetables into your routine is important so that you can get the full spectrum of benefits and meet your nutritional needs. 
Here at Sunwink, our Superfood Powder Variety Pack includes four of our Superfood Powders so that you can enjoy the benefits of fruits and veggies like goji berry, reishi mushroom, and acai.
4. Legumes and Beans
Legumes, such as black beans and chickpeas, can be great sources of protein and fiber. Especially if you're vegetarian or vegan, these foods can make great substitutes for animal products when it comes to protein content.
Beans are thought to support healthy blood sugar and weight management specifically, but the benefits don't end there. Taking advantage of legumes is an excellent way to gain access to plenty of benefits to your well-being — such as support for healthy blood pressure, bone health, and optimal health overall.
Legumes are typically affordable and easy to find in stores, making them an extremely accessible option. Not only are they usually very affordable, but there are so many different ways they can be prepared. This makes them great functional food and a favorite of many.
5. Fortified Foods
Fortified foods contain added nutrients, like vitamins or minerals, to aid public health and help prevent deficiencies.

One common example is orange juice, which is often fortified with vitamin D to help support bone health. Dairy products are sometimes also fortified with vitamin D and added probiotics.
6. Fermented Foods
If you have digestive issues, it might be time to consider fermented foods for their probiotic content. Foods that are fermented can support a healthy microbiome in the gut, which can help in reducing gastrointestinal issues.
What Are Some Ways To Eat More Functional Foods?
There are many different different ways to eat more functional foods, depending on the specific food you will be eating.
When it comes to eating healthy, you should make it as easy on yourself as possible. For many people, this means finding options that require little preparation. This is a great way to save time and ensure that you're getting the nutrients you need. Incorporating functional foods doesn't mean you need to engage in long and time-consuming recipes, new routines, or complex grocery lists. 
In fact, we make it easy so that you don't have to worry about building your life around functional foods. Our Superfood Powders can be mixed into a glass of water, a smoothie, or another liquid of your choice — in other words, it's simple to add superfoods into your current routine. Our powders feature functional foods like berries, lemon, and chicory root for digestive, immunity, and cognitive support.
When it comes to eating functional foods, it's all about finding what works for you. You're more likely to eat functional foods if you enjoy eating them, so explore new recipes and find exciting ways to cook healthy options. 
You can also work more functional foods into your diet by considering dietary supplements or superfood tonics that pack a lot of punch into one serving. 
Make Healthy Choices With Sunwink
At Sunwink, we understand the importance of having access to healthy food options.
Our products are a great choice if you want to add plant power to your diet. We only use the highest quality ingredients so that you can feel good about incorporating our products into your diet.
We love functional foods, so that's why we've created products to aid you on your wellness journey. When you choose Sunwink, you can be sure that you're accessing quality foods made with real ingredients. We pride ourselves on the sourcing of our ingredients so that you can feel confident in your purchase.
If you want to start eating healthier but don't know where to begin, consider Sunwink.
Sources:
What are functional foods? | Mayo Clinic
Effects of beta-glucans on the immune system | NCBI