Superfood Tonics 101: The Uses & Benefits of Medicinal Tonics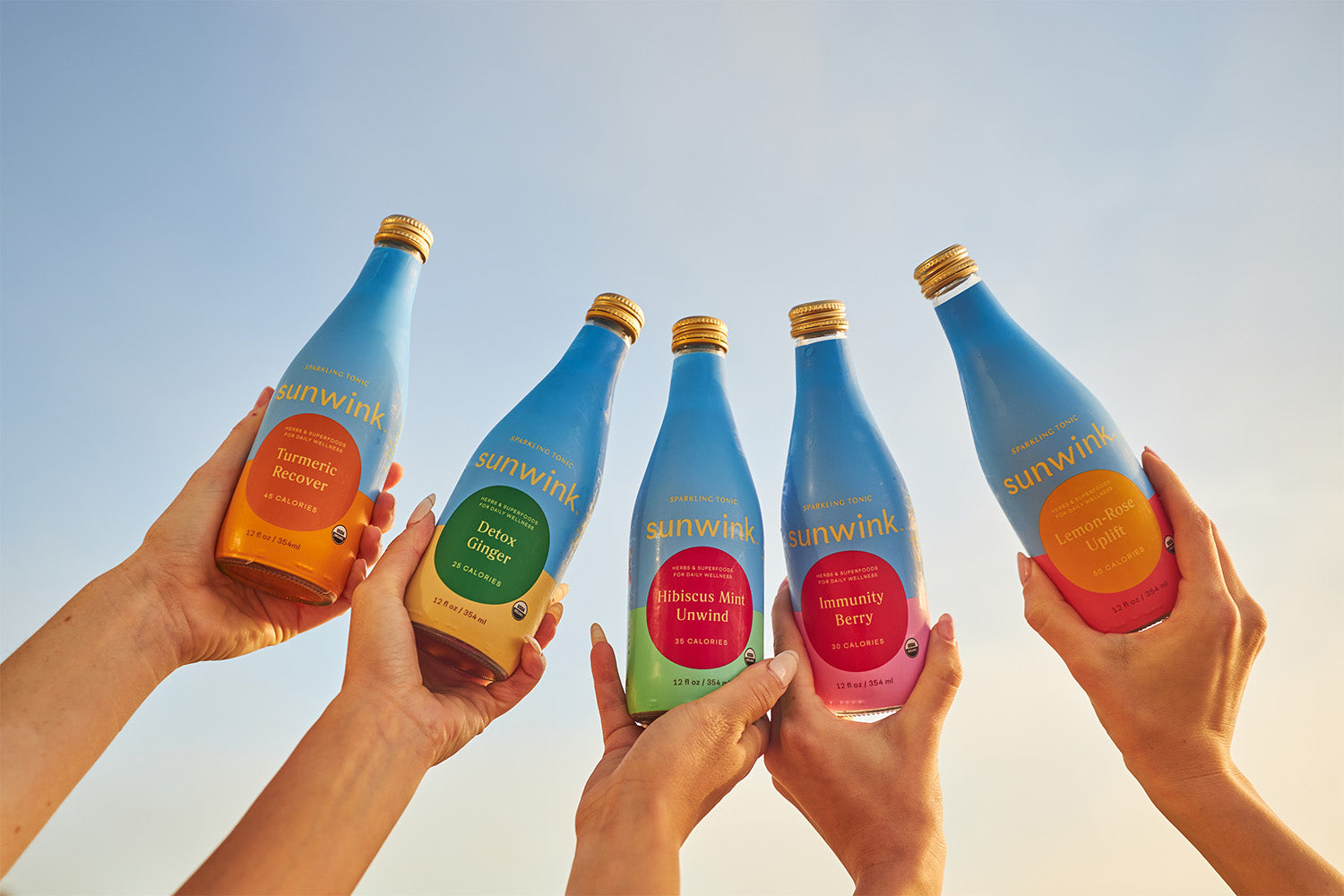 Making wellness choices is about more than just what you eat and drink. Wellness choices are about taking care of your body and mind so that you can live the best life possible. Making the best choices for your body helps set you up for success in the future.
One of the most important parts of wellness is food — making sure that we're consuming the right foods is one of the best ways to take care of our bodies and nourish them properly.
Food is a powerful tool. From taking care of your immune system to supporting brain function, food is one of the best ways we can optimize our wellness.
If you're wanting to learn more about superfood tonics and their benefits, then look no further. Let's break down everything you need to know about superfood tonics to optimize your wellness.
What Should I Know About Superfood Tonics?
Superfood tonics are intended for wellness and typically have specific benefits depending on the individual tonic and its ingredients.
The ingredients each tonic is made from are what determine the product's potential benefits.
There are a lot of different tonics on the market, so it's important to purchase one you can trust from a brand that is transparent about its ingredients.
Tonics have been around for thousands of years, as superfoods are one of the best ways to get specialized benefits. Learning more about the benefits and uses of tonics can help you hone in on products that will support your wellness goals.
What Different Types of Tonics Exist?
There are different types of tonics available, with the main difference between them being their ingredient makeup. Different superfoods are best for different situations.
Adaptogens are best for helping the body maintain a healthy stress response. Bitters help the body with its digestion, and nutritives are typically high in vitamins and minerals. If you're going to make tonics a part of your daily routine, it's important to learn about the many different kinds to select the best ones for your situation.
When selecting the right tonic, it's essential to remember that not all tonics are made equally, and it's important to learn about the company you're purchasing from. 
Here at Sunwink, our Sparkling Superfood Tonics are plant-powered and non-GMO so you can rest assured you are getting high-quality ingredients. Our Hibiscus Mint Unwind Sparkling Superfood Tonic, for example, features hibiscus for a boost of vitamin C and antioxidants, mint for anti-inflammatory benefits and digestive support, and ashwagandha for adaptogenic and stress-relieving properties. 
You should always consider speaking with your doctor before adding natural remedies, or supplements of any kind, to your diet — especially if you have certain conditions or are hoping to address specific concerns. 
That said, let's talk about the different uses and benefits of tonics. (Hint: There are a lot.)
What Are Some Benefits of Medicinal Tonics?
As we mentioned previously, there are a lot of benefits when it comes to using tonics. Understanding these benefits can help you decide how to use tonics most effectively. Different superfoods and tonic ingredients can have different benefits, and learning more about some of these potential benefits can help steer you in the right direction regarding your own wellness goals.
Here are some possible benefits of incorporating superfood tonics:
1. Immune Support
Protecting your immune system is essential to your overall health, and superfood tonics can play a large role in that. Making sure you're fueling your immune system can help keep you protected against foreign invaders like viruses.
There are a few superfoods that you should specifically consider if you're looking for immune support, such as rosemary and dandelion. We incorporate dandelion into our Digestion Lemon Sparkling Superfood Tonic alongside lemon and ginger for digestive support — because your gut is key to your overall health.
2. Stress Reduction
Certain tonics might be a great addition to your daily routine if you have high stress levels. Ashwagandha is a great ingredient to consider if you want to help your body deal with stress efficiently.

Our Hibiscus Mint Unwind Sparkling Superfood Tonic features ashwagandha alongside hibiscus and mint for optimal stress-relief and relaxation.
We can't always avoid stress, but we can equip our bodies to handle it. Superfood tonics are a great way to minimize the effects of stress on your body.
3. Overall Wellness
While tonics can provide some very specific benefits, they can also support general wellness. If you're looking for a little boost in the morning and want to take care of your entire body, then tonics can be a great way to do so.
One of the great things about tonics is that they can be both specific and comprehensive. Making sure that you're taking care of your body is important, and tonics play a role in that. If you're looking for overall wellness, consider trying our tonics.

Our Self-Care Sparkling Superfood Tonic Pack includes three of our Sparkling Superfood Tonics so you can support your wellness from all angles.
4. Hormonal Support
Some superfood tonics might do the trick if you're looking to support your natural hormone levels. Maintaining healthy hormone levels is crucial for your overall wellness, and certain superfoods may work to support hormonal balance.
If you are dealing with a hormonal imbalance, you should always consult your doctor for the best advice. However, certain superfoods may help support hormone levels.
5. Digestive Support
Superfood tonics can also help support your digestive tract, which controls your body's ability to absorb and use the food you eat. 
Superfoods and spices like ginger and burdock may work to support your overall digestive health.
Our Digestion Lemon Sparkling Superfood Tonic includes ginger, lemon, and dandelion to support a healthy digestive balance, debloating benefits, and overall gut health.
What Are Some Ways To Include Tonics in My Diet?
Tonics come in multiple forms, and your chosen form will depend on your goals for using the tonic.
One of the most convenient ways to incorporate tonics into your diet is to try Sunwink's Sparkling Superfood Tonics. We make superfood tonics a delicious and easy way to support your wellness — we do the work so you don't have to. 
Enjoy one of our sparkling tonics as a tasty morning pick-me-up, and afternoon wellness boost, or an evening wind-down beverage to reap the benefits of superfoods like ashwagandha and chicory root. You can also mix our sparkling tonics with a beverage of your choice, like water, juice, or green tea, depending on your preferences. 
Finding what works best for you and your routine can help you fall into the habit of incorporating tonics without having to think too much about it. 
Choosing Sunwink
When it comes to eating healthy, it can be hard to know which foods to eat. So many brands claim that foods are healthy, but it's hard to know what companies you can trust.
You must feel confident in the foods you eat to ensure you're adequately fueling your body. If you're feeling unsure about what foods to eat, then you can be sure to trust our products.
At Sunwink, we use the power of superfoods to ensure that our products are full of nutrients. When you choose our products, you can feel confident about the foods you're eating. You can be sure that you're getting high-quality nutrients at an affordable price.
We're proud to provide our community with resources to live healthier lives. When it comes to your wellness journey, you can trust Sunwink. We're here to ensure you have what you need to build a functional diet to feel good and fuel your body.
Sources:
Opportunities for Health Promotion: Highlighting Herbs and Spices to Improve Immune Support and Well-being | PMC
Adaptogenic and Anxiolytic Effects of Ashwagandha Root Extract in Healthy Adults: A Double-blind, Randomized, Placebo-controlled Clinical Study | NCBI
Botanicals and Their Bioactive Phytochemicals for Women's Health | PMC