10 Superfoods With Health Benefits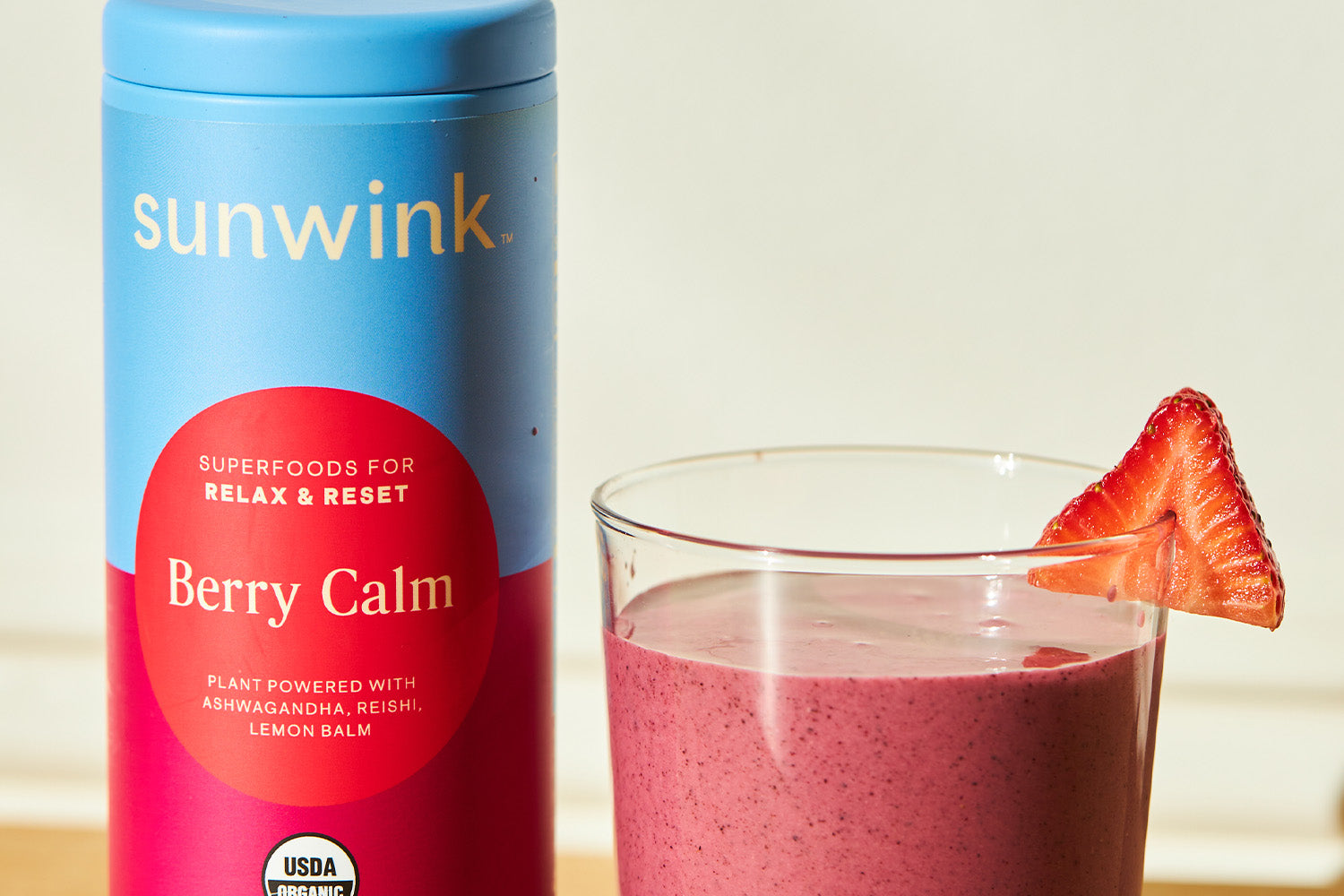 When it comes to your wellness journey, diet is one of the most important aspects. It can be very empowering to learn more about the foods we put in our bodies. 
Superfoods are considered to be some of the healthiest, most beneficial types of food we can eat — but what exactly are superfoods, and what are the benefits? 
We're here to break it down. Let's talk about what superfoods are, what the potential health benefits are, and how you can incorporate more superfoods into your diet. At Sunwink, we believe in the power of superfoods — and we hope you will, too, by the end of this blog. 
What Are Superfoods?
Simply put, superfoods are foods that are high in nutrients. They're considered to be very healthy and have many different benefits.
It's important to note that no regulations exist for brands claiming that a food is a superfood. This means that it's very important to research the foods you buy and ensure that they truly are superfoods. Keeping an eye on what's in your cart can be one of the best ways to ensure you're confident in your decisions and feel good about your diet.
There are lots of different superfoods, all of which have specific benefits. Understanding these benefits is important to ensure you're eating the right foods for your specific health goals.
One of the aspects of superfoods is that they're generally very minimally processed, or not processed at all. This is a great aspect of superfoods, as you can usually trust that they don't have many additives.
While all superfoods can be beneficial, some superfoods are especially beneficial. Let's talk about some of those superfoods and how you can incorporate them into your diet.
What Are Some Superfoods With Plenty of Health Benefits?
Understanding the benefits of superfoods is important so that you can select the ones that best align with your individual health goals. Before we begin with some superfood examples, consider thinking about your personal health goals. Having these goals in mind can be helpful so that you can select the foods that make the most sense for your health journey.
Finding ways to incorporate the following foods into your diet is a great way to ensure you get as many health benefits as possible. Eating healthy is all about finding ways to make good foods accessible, which we truly believe in at Sunwink.
1. Almonds
Some people might be surprised to learn just how nutritious almonds are. Almonds are extremely high in protein and omega-3 fatty acids and can be a great option if you're working out. Almonds can be a great way to support your heart health, healthy cholesterol levels, and healthy blood pressure.

If you're concerned about how many calories are in almonds, consider eating just a small amount daily. This is a great way to keep your calorie count down while still getting the nutritional benefits.
Another great aspect of almonds is that there are multiple ways to eat them — from raw almonds to almond butter and almond milk; the choice is yours! Adding almond butter to your morning smoothie or oatmeal is a great way to get some protein and healthy fat.
2. Berries
Berries, like blueberries, strawberries, and raspberries, are full of antioxidants, vitamin C, and even small amounts of dietary fiber. 
From supporting immunity to promoting healthy skin, berries can be a fantastic addition to any diet — and you can get your fix with our Immunity Berry Sparkling Superfood Tonic and Berry Healthy Skin Superfood Powder. 
3. Sweet Potatoes
If you're concerned about maintaining a healthy blood pressure and cardiovascular health, sweet potato might be your friend. Sweet potatoes can play an important role in maintaining proper blood pressure
Not only do sweet potatoes help with blood pressure, but they can also be a good source of healthy carbs, vitamins A and E, and essential minerals. Finding healthy carb options can be challenging, so look no further than sweet potatoes.
Sweet potatoes are easy to prepare and add to your meal routine. Next time you're at the store, get a few sweet potatoes and add them to your diet if you're looking for some carbs.
4. Ginger
Ginger root is known for its abilities to help support and aid proper digestion in the body, and it may also help support your body's natural ability to detox. 
Our Detox Ginger Sparkling Superfood Tonic features Ginger alongside Burdock and Dandelion for digestive and detox support while also providing plenty of antioxidants. 
5. Lemon
Are you surprised that lemon is a superfood?
Adding a squeeze of lemon to your morning water has multiple health benefits. This citrus fruit is a great source of Vitamin C and antioxidants, but did you also know that it's high in fiber and can support weight loss efforts? Finding creative ways to add lemon into your diet can help you take advantage of its many health benefits.
Our Digestion Lemon Sparkling Superfood Tonic is a great way to support your digestion and make sure you're getting necessary nutrients. Our tonic tastes amazing, so you'll actually look forward to drinking it and reaping the benefits.

Featuring Lemon Balm, Ginger, and Dandelion to soothe and support healthy digestion and debloating power, our tonic really does taste just as amazing as it feels.
6. Watermelon
Watermelon is a superfood with plenty of benefits — from immune support to a boost of vitamins A and C to a delicious way to hydrate, watermelon is a nutritious and tasty addition.
You can eat it fresh, freeze it or add it to a smoothie. Regardless of how you enjoy watermelon, you can be sure you're getting multiple health benefits.
7. Quinoa
You should consider quinoa if you're looking for a whole grain packed with some protein. Many people enjoy adding quinoa to their salads because, like brown rice, quinoa is a heart-healthy, complex carbohydrate.
Besides the protein, quinoa has other benefits. It's high in folate and zinc, making it a great way to get those micronutrients. Whip up a bowl of quinoa and top it with vegetables for a healthy lunch or dinner, or even add some to your overnight oats for a subtle way to get in some extra nutrients.
8. Ashwagandha
Ashwagandha is a superfood that boasts benefits when it comes to tension relief, feelings of emotional wellness, and support for overall health. Ashwagandha is an adaptogen, meaning it can help support a healthy stress response in the body during times of trouble. 
Our Hibiscus Mint Unwind Sparkling Superfood Tonic includes Ashwagandha, Hibiscus, and Mint for soothing, antioxidant, and digestion-supporting properties. 
9. Yogurt
Fermented foods like yogurt are known to be beneficial for gut health, so it's no surprise that yogurt is a superfood. Yogurt is full of nutrients like B vitamins, and pairing your yogurt with other superfoods like blueberries and chia seeds can provide you with even more wellness support.
Many people enjoy eating yogurt in the morning for breakfast. This is a great way to start your morning off on a healthy note and ensure that you start your day with the nutrients you need. Adding other foods to your yogurt, such as granola, is a great way to shake it up and enjoy your morning food routine.
10. Avocado
Many people feel intimidated by the idea of eating foods that are high in fat. However, it's important to find healthy sources of fat. If you're currently seeking out healthy fat sources, then avocado might be the right choice for you — plus it contains magnesium and potassium, and may offer benefits for maintaining a healthy libido.
There are so many different ways that you can enjoy avocado. Many people add it to their toast in the morning. You can also use it to make ice cream if you're looking for a sweet, healthy alternative.
You don't need to be afraid of eating healthy fats. In fact, they're an essential part of a healthy diet. Avoiding fats entirely can be dangerous, so it's important to find the right sources of fat to add to your diet. 
Making Informed Choices
When it comes to making choices about your health, it's crucial that you're informed and empowered. 
Making health decisions can be overwhelming, but it can be helpful to research and learn about all your different options. The internet is a great resource that you can use to research. Making sure you're on the right track with your wellness means you'll need to be aware of what's in the food you're eating.
If you're looking for a product that you can trust, look no further than Sunwink. From Sparkling Superfood Tonics to Superfood Powders and bundles, we craft clean and delicious superfood options to help make wellness easy.
We believe in empowering our community to make the right choices and take care of their bodies.
By now, we hope that you've been convinced that superfoods are important. That's why we love taking advantage of superfoods in our products. If you're looking for an accessible way to make sure that you're getting enough superfoods in your diet, look no further than our products.
At Sunwink, we are dedicated to ensuring that our community has access to wellness products. If you're ready to start your wellness journey, we're ready to help.
Sources:
What Is a Superfood, Anyway? | Cleveland Clinic
Health Benefits of Nut Consumption | PMC
Hass Avocado Composition and Potential Health Effects | PMC
Citrus fruits as a treasure trove of active natural metabolites that potentially provide benefits for human health | NCBI
Effects of Dietary Yogurt on the Healthy Human Gastrointestinal (GI) Microbiome | PMC
The wonders of watermelon | Mayo Clinic Health System
Adaptogenic and Anxiolytic Effects of Ashwagandha Root Extract in Healthy Adults: A Double-blind, Randomized, Placebo-controlled Clinical Study | PMC