9 Refreshing Beach Drinks for All Ages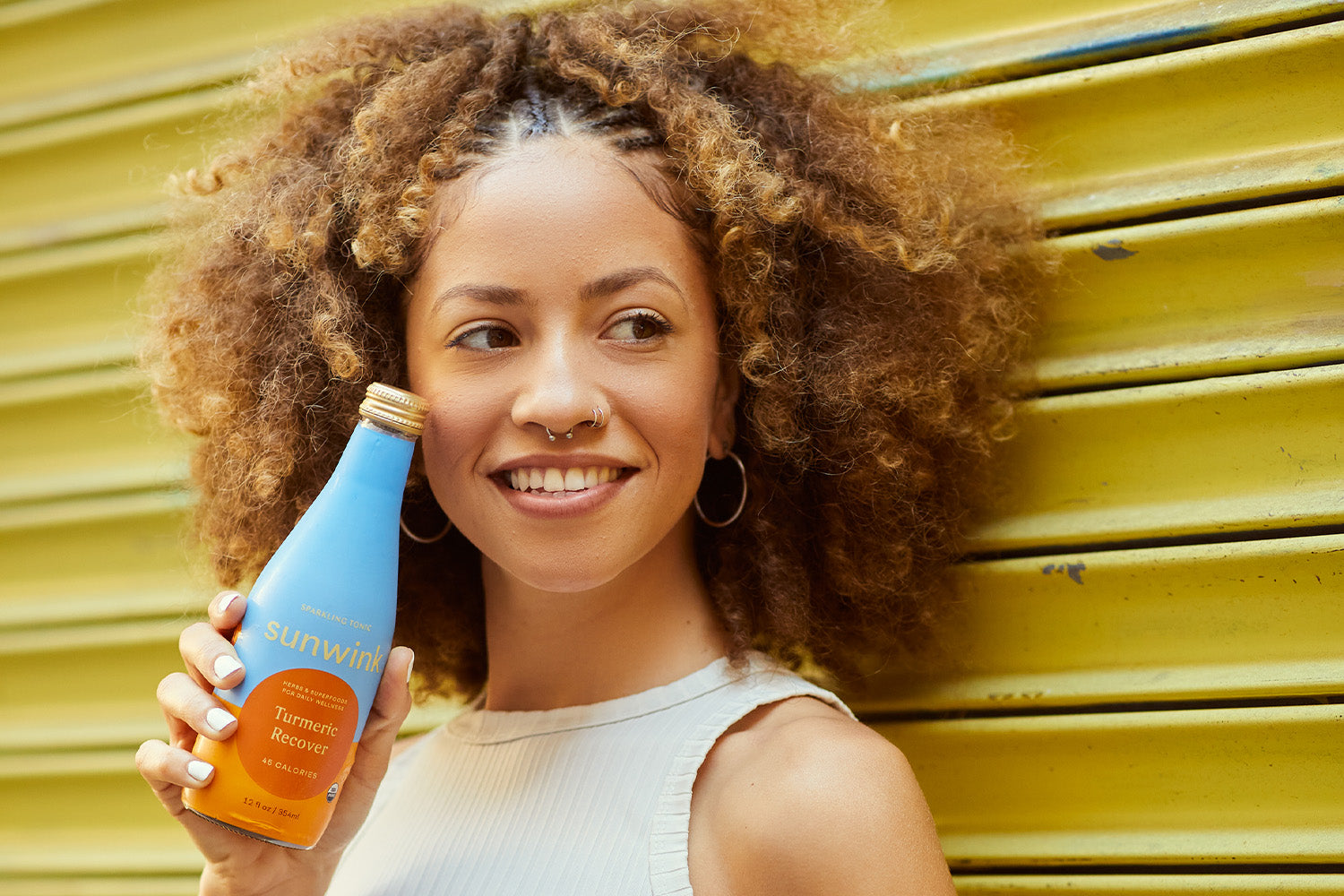 Whether you live near the beach or vacation there, there's nothing like dipping your feet in the water and having the perfect drink in your hand. Grab your favorite water bottle and some healthy ingredients, and get ready to make a delicious drink for your day at the beach.
Staying hydrated is important, especially when you're out in the sun. If you're headed to the beach soon, consider getting creative with your drink choices. Finding new ways to enjoy beverages is a great way to shake up your routine while still taking care of your body and providing it with the nutrients it needs.
At Sunwink, we believe that drinks can be both healthy and delicious. You shouldn't have to sacrifice flavor or quality when you're pouring something into your cup. We've put together this blog post so that you can expand your drink options and upgrade your day in the sun.
Cheers to trying new recipes, making new drinks, and sharing memories with loved ones!
Making sure that you have a holistic view of wellness is important. There are so many different tools that we have to increase our wellness, and drinks can be an important one. Mixing drinks with healthy ingredients is a great way to sneak in some additional nutrients.
The next time you're at the beach, try one of these tasty beverages to take things up a notch!
9 Refreshing Drinks for Your Next Beach Day
Below are some of our favorite drinks for when you're heading to the beach. 
One of our favorite things about these recipes is that they can be modified for your preferences. That said, these are some of our favorite refreshing drinks perfect for your next beach day!
1. Tonics
When it comes to healthy drinks, tonics are often overlooked. However, they're a great way to add some superfoods to your beach day.
Our superfood tonics are a great way to get some nutrients in and ensure you're taking care of your body. Our variety tonic pack is a great way to try multiple flavors and see which ones are your favorite. We have multiple flavors available, and our Variety Pack is a great way to test the waters and find your flavorite flavor.
Our tonics are a great addition to relaxing in the sun and make sure you're staying on track for your fitness goals.
2. Hibiscus Mint Mojito Mocktail
This recipe is a great option if you want the vibes of an alcoholic drink without the alcohol.
One of the great things about this recipe is that it's extremely easy to make. Especially if you're looking for a drink that you can mix up when you're already at the beach, this could be the right drink for you.
The star of this drink is our Hibiscus Mint Unwind Sparkling Superfood Tonic, featuring Hibiscus for an antioxidant boost, Mint for anti-inflammatory benefits and digestive support, and Ashwagandha to help ease stress and tension. 
Simply mix our tonic with lime, agave, and club soda and sip your worries away.
3. Classic Lemonade
Why not stick with a classic?
Lemonade is a great way to cool off, especially if you have a sweet tooth. Not only is lemonade delicious, but lemons can provide some health benefits.
Lemons have been known to be beneficial for weight loss and heart health. There are many health benefits that lemons provide, so adding them to your water bottle is one of the best ways to make sure that you're getting some nutrients while relaxing at the beach.
Combine our Digestion Lemon Sparkling Superfood Tonic with some honey and a squeeze of fresh lemon and enjoy.
4. Cucumber Mint Water
Some people overlook the health benefits of cucumber and mint, but adding them to your water is a great way to introduce some nutrients to your diet.
Some of the health benefits of cucumbers are that they can increase hydration (which is great if you're going to be in the sun) and they are high in antioxidants.
If you're packing cucumber or mint for other meals while you're at the beach, consider dropping them into your water bottle, too.
5. Lemon-Rose Holiday Mock-Mimosa
Who doesn't love celebrating Christmas in July?
This drink is the perfect way to bring the holidays to your day at the beach. If you're feeling festive, then look no further than this delicious mocktail mimosa.
One of our favorite things about this drink is how fancy it is. The addition of champagne takes this drink to the next level and is a great way to celebrate with friends.
Another great aspect of this drink is that there are many options for garnishes. Garnishes are a great way to upgrade a drink and add some personalization. Put a spin on this drink with your favorite garnish and bring an unexpected aspect to your next beach trip.
Our Lemon-Rose Uplift Sparkling Superfood Tonic steals the spotlight in this recipe with digestion-soothing Lemon Balm, antioxidant-rich Hibiscus, and uplifting Rose. 
6. Coconut Water
If you're worried about hydration while at the beach, coconut water might be the perfect solution.
Coconut water has a variety of health benefits, but hydration is one of the most notable. A unique aspect of coconut water is that it's free of artificial sweeteners. Next time you're at the store and reaching for a hydration drink high in sugar, consider buying some coconut water instead.
Coconut water is high in electrolytes, making it one of the perfect options for a day at the beach. Another great aspect of coconut water is that you can feel good about giving it to kids. You don't have to worry about the unhealthy ingredients that many other drinks have.
7. Modified Mocktail Margaritas
Margaritas might not be the healthiest option out there, but there are many ways they can be modified to be healthier.
Finding ways to tweak your favorite drinks is important so that you can continue eating healthy while still eating and drinking the things you love.
If you're looking for a way to cool down, a chilled margarita can be the perfect option. You can make both alcoholic or virgin margaritas, depending on who you'll be sharing them with.
If you want to make your margaritas healthier, consider adding a superfood like berries — we make that part easy with our Immunity Berry Sparkling Superfood Tonic. A day at the beach means treating yourself, so consider making a batch of margaritas to enjoy while you're there.
8. Black Widow's Bite
If you're looking for a dramatic drink, then this could be the one for you. It's a great option if you enjoy pigmented drinks and pack a punch.
The Black Widow's Bite is one of our favorite drinks because we love its theme and also its detox properties. If you're interested in a drink that will help you detox, why not do it at the beach?
This is the perfect drink for those that are wanting a non-alcoholic option. It's also a great choice for other times during the year, especially Halloween. If you're looking for a versatile drink that you can enjoy without worrying about the ingredients, this could be the one.
9. Digestive Lemon Smoothie
A smoothie made with our Digestion Lemon superfood powder can be a great (and delicious!) way to support your digestive health while also staying hydrated at the beach.

Simple bring along a smoothie of your choice and add in our superfood powder for an extra boost of vitamins, antioxidants, and digestive support. Our powder can be added to berry smoothies, green smoothies, or even tropical fruit smoothies for an easy and convenient way to pack even more nutrients into your day.
Ready for More Recipes?
At Sunwink, we are committed to helping you along your health journey, whatever that might look like for you.
We craft our products with high-quality superfood ingredients to bring you a delicious way to support your health and wellness. When you're choosing Sunwink, you can be sure that you're choosing quality. 
Sources:
6 Health Benefits of Coconut Water | Cleveland Clinic
Quality Characteristics and Antioxidant Potential of Lemon (Citrus limon Burm. f.) Seed Oil Extracted by Different Methods | PMC